Britain's Tea Party Rattles the Tories
With both Boris Johnson and Nigel Farage finally serious about becoming members of Parliament, David Cameron is living in what the Chinese would proverbially call `interesting times.'
by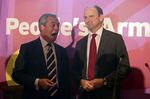 U.K. politics is getting a lot more interesting now that Boris Johnson, London's floppy-topped mayor, and Nigel Farage, the leader of Britain's version of the U.S. Tea Party, are both serious about becoming members of Parliament. And it's only taken a couple of days for David Cameron's Conservative Party to suffer its first bruising in the initial skirmishes of an election that's still eight months away, and likely to feature more bare-knuckle brawling than previous contests.
Farage's U.K. Independence Party, whose anti-immigration rhetoric played well with voters in the European elections, persuaded one of Cameron's lawmakers to defect yesterday. The resignation of Douglas Carswellwill trigger a special election in his constituency of Clacton in Essex in the near future; bookmakers have him as the clear favorite to retain his seat, which in turn would make him the Independence Party's first representative in Westminster.
Earlier this week, Johnson said he will stand for a safe Conservative seat in northwest London, while Farage was selected to stand ashis party's candidate for Thanetin next year's May election. Both have the potential to cause trouble for Cameron, who some Conservatives still fault for failing to secure an outright majority at the May 2010 election, forcing a coalition government with the Liberal Democrats.
Farage, 50, has the air of a distant uncle who shows up unannounced at the wedding, monopolizes the free bar and is destined to end up worse for wear on the dance floor before the night is out. Asked what attracted him to the coastal town of Thanet, he had this to say:
I'm a mad keen sea angler. And there's quite a lot of pubs.
Farage terrifies some members of the Conservative Party. They fret that his mix of anti-Europeanism and xenophobia verging on racism will steal enough voters to assist the opposition Labour Party. Just why they're so scared is a question, considering that the 27.5 percent of the vote the Independence Party captured at the May European elections hasn't translated to the domestic scene:

Johnson may prove more dangerous to Cameron. A Tory through and through, apt to lapse into Latin or French halfway through his speeches, Johnson has more than half an eye on eventually replacing Cameron as Conservative Party leader. While that's not likely this side of the election, anything less than a thumping Conservative majority and the disemboweling of of the Independence Party may prompt the party's apparatchiks to seek a change at the top in the second half of next year. These are definitely more interesting times in U.K. politics; Cameron would do well to heed the undercurrent of the relevant Chinese proverb.
This column does not necessarily reflect the opinion of Bloomberg View's editorial board or Bloomberg LP, its owners and investors.
To contact the author on this story:
Mark Gilbert at magilbert@bloomberg.net
To contact the editor on this story:
James Greiff at jgreiff@bloomberg.net
Before it's here, it's on the Bloomberg Terminal.
LEARN MORE