Putin Annexes Chessboard
A match to decide the world chess champion may be unraveling over financial issues related to the crisis in Ukraine. 
by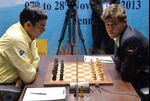 So it now appears that the crisis in Ukraine might upset the plans for November's chess match between reigning world champion Magnus Carlsen and ex-champion Viswanathan Anand. The match, to be held under the auspices of the World Chess Federation, may be unraveling over financial issues related to the crisis.
Carlsen has expressed unhappiness with the scheduling, but also seems skeptical about the purse. According to ChessBase, the $1.5 million reserved for prizes "appears to be coming from Aleksander Tkachev, who is Governor of the Krasnodar Territory and one of the leaders of the self-proclaimed Donetsk People's Republic. For this reason Tkachev has been blacklisted by the European Union, together with other key Russian officials from the region."
In other words, the federation is doing business with an official blacklisted by the EU, and is counting on him to provide the prize money. This of course is not the first time in recent memory that the federation has been accused of unsavory activities, a charge that was a major issue in the recent re-election of its president. But, in the current atmosphere, taking money from an official of Donetsk is arguably beyond the pale.
The 23-year-old Carlsen, who has brought chess enormous worldwide popularity, asked for and was denied a postponement. He has been given an ultimatum: Sign the match contract by this Sunday or forfeit his title as world champion and be replaced in the match by Sergey Karjakin, the Russian grandmaster who finished second in the tournament that Anand won to gain the right to challenge for the title.
Still, it's difficult to believe that Carlsen won't play the match, or that the federation in the end won't compromise. Each has too much to lose.
This column does not necessarily reflect the opinion of Bloomberg View's editorial board or Bloomberg LP, its owners and investors.