Labor Day Traffic's New Menace: Electric Cars
Edward Niedermeyer, an auto-industry analyst, is the co-founder of Daily Kanban and the former editor of the blog The Truth About Cars.
Read More.
A Labor Day without nightmare traffic? You might be expecting one if you've been reading thetrend pieces about how Americans' "love affair with the car" is over, or looking at the charts showing how vehicle miles traveled have flatlined: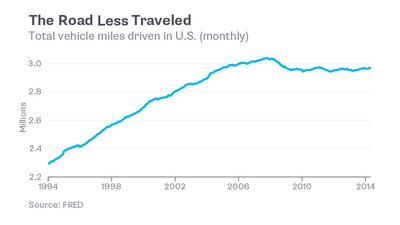 No such luck. According to the American Automobile Association, the lowest holiday weekend gas prices since 2010 will help motivate nearly 30 million Americans to drive more than 50 miles this weekend. In the short term, the credit-turbocharged new-car market, rising domestic oil production and the failure of Congress and states to invest in roads and highways threaten to keep traffic gridlocked.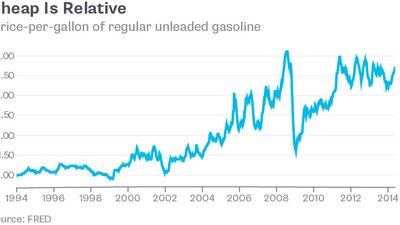 So while you're fighting the urge to drive in the breakdown lane all the way to the shore, ponder the following points:
Low gas taxes account for the low average pump prices we enjoy in the U.S. (compared to the rest of the developed word) but are also directly responsible for our underdeveloped road infrastructure. Once championed by motorists who appreciated quality roads , the federal gas tax is now a sacred cow, locked at 18.4 cents per gallon since the 1990s. The hidden cost? An estimated $101 billion in fuel wasted because of congestion.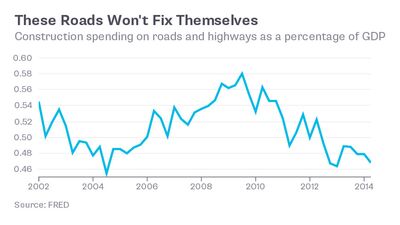 Electric cars are the surprise villains of congestion. Not only are they freeloading on a road system financed by gasoline taxes, but they can have an aggravating effect on congestion because of their battery range limitations. As one frustrated driver wrote of a recent trip from San Francisco to San Diego: "While planned with a charge to make their standard sub 50-mile run, the one-hour-plus of creeping in below 10-mph traffic did not allow the systems to regenerate any power from motion, and they burned a lot of power conditioning the cabin in the 100°F+ temperatures for the occupants." You may be wasting gas in the gridlock, but Mr. Tesla is losing precious range trying to stay cool ... and when his range hits zero, he's a new obstacle for traffic.

Freedom from traffic is increasingly seen as an ultimate luxury. From Manhattan to Sao Paolo, helicopter transport over clogged streets used to be an elite business "necessity" but now, of course, there is an app for that. Just don't hold your breath for a flying car.

Maybe someone hacked this traffic light? That's the only way it could be taking so long, right?

Imagine what you could be doing if your car would just drive itself already. Unfortunately you may be stuck behind the wheel for quite a while longer. Google, the company leading the charge to build true driverless cars, suffered a setback when the California DMV said it could not test driverless cars without full controls. Stung, the company said it would test its self-driving cars in its "Matrix" simulator until reality is ready for them.

"The chief collector of the gasoline tax in Tennessee exclaimed in 1926 'Who ever heard, before, of a popular tax?' John C. Burnham points out that 'never before in the history of taxation has a major tax been so generally accepted in so short a period.' It is remarkable, he writes, to what extent Americans "were willing to pay for the almost infinite expansion of their automobility.'" James J Fink, The Automobile Age (p. 171).
This column does not necessarily reflect the opinion of Bloomberg View's editorial board or Bloomberg LP, its owners and investors.
To contact the author on this story:
Edward Niedermeyer at edward.niedermeyer@gmail.com
To contact the editor on this story:
Toby Harshaw at tharshaw@bloomberg.net