L'Oreal Adds a Feminist Label
The EDGE mission to help companies in "fostering equal career opportunities for women and men in the workplace" sounds promising. Gold star! But what does it mean, exactly?
by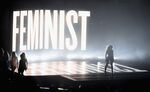 On Sunday, Beyoncé lit up the stage at the MTV Video Music Awards with the word "FEMINIST" in bright lights, re-energizing a debate about what feminism means today. On Tuesday, L'Oreal USA took on a much subtler label: the Economic Dividends for Gender Equality certification, which recognizes companies for promoting gender equality in the workplace.
Like child-labor-free certification or the fair-trade guarantee for wages, EDGE is an attempt to tie commerce to a social cause. L'Oreal USA was the first company in the U.S. to receive the label. Started at the World Economic Forum in Davos, Switzerland, in 2011, the certification offers the cosmetics maker a way to show its commitment to gender equality to employees, consumers and investors, who are increasingly paying attention to the gender breakdown in corporate leadership.
Despite much hand-wringing in recent years, glaring gender gaps persist in the business world, particularly on corporate boards and in pay. Men hold 82 percent of all S&P 500 board seats, and make more on average than women in comparable jobs. So the EDGE mission to help companies in "fostering equal career opportunities for women and men in the workplace" sounds promising. Gold star!
But what does it mean, exactly? The criteria seem a bit vague.
According to L'Oreal's press release, the six-month certification process involved surveying more than 3,000 employees, submitting a questionnaire about company policies and sharing internal data on management diversity and worker pay. EDGE says it evaluates companies across five broad areas: recruitment and promotion, leadership training and mentorship, flexible work, company culture and equal pay. But it doesn't make specific metric requirements available on its website, and L'Oreal didn't reveal data or specific policies.
It's also not clear if the label will have much of an effect on consumers. (L'Oreal isn't adding the EDGE citation to its packaging just yet.) People like to think that they use their spending power for good causes, but their actions don't always support that. According to a 2013 study from Cone Communications, a public-relations agency, 88 percent of consumers said they would buy a product with a social benefit. Only 54 percent actually had in the last year. Labels can also be misleading. The "organic" label, for example, has been accused of misidentifying products and misleading consumers. We'll only know how legitimate the certification is when EDGE and/or the companies release more details on these pro-equality policies and data showing that the good intentions actually produce results.
L'Oreal is one of a handful of companies globally to receive the EDGE certification, joining the Mexican bank Compartamos Banco and the Swiss parts of Ikea and Deloitte. Clearly, the cosmetics-maker had a big head start here: 65 percent of L'Oreal's employees are women, and its consumers are largely female. The true test will be whether companies in more traditionally male-dominated industries such as financial services decide it's important to have such branding, too.
Still, it's a start. To quote Beyoncé quoting Nigerian writer Chimamanda Ngozi Adichie, a feminist is "the person who believes in the social, political and economic equality of the sexes." So, it's great that more people and companies are adopting a feminist label. Just show us the action to back it up.
This column does not necessarily reflect the opinion of Bloomberg View's editorial board or Bloomberg LP, its owners and investors.