India's Coal Conundrum
A Supreme Court ruling on coal licenses has the potential to rock some of India's biggest industries. But judges can't fix India's real energy problem.
by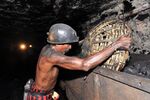 India's struggling industrial sector suffered quite the shock Monday, when the country's Supreme Court ruled that the allocation of hundreds of coal mines to private companies from 1993 to 2010 had been illegal. If judges decide to cancel those licenses on Sept. 1, when they are set to issue a follow-up ruling, they could deal a "death blow to confidence" in sectors such as steel and power. What they can't do is fix India's energy mess.
The court's decision shouldn't have come as a surprise. The process by which the government doled out so-called captive mines -- which companies could use to produce energy for their own facilities, but not sell on the open market -- was completely discretionary and arbitrary. Bureaucrats picked the well-connected winners one-by-one, rather than through an open bidding process. Officials rarely advertised for applications, and didn't lay down any clear or transparent criteria for selection. Even if no money changed hands, there's no way to prove the deals were aboveboard. The screening committee did not record minutes of its meetings.
Fears that the court may now cancel the 218 licenses in question outright have pummeled the stock prices of affected companies. A similarly flawed program prompted the court to revoke 122 telecom licenses in 2012, plunging the sector into crisis. It's since been starved of investment.
Blanket cancellations could cripple India's power sector, two-thirds of which is driven by coal. Even at peak generating capacity, the supply of power in India falls 10 percent short of demand. A power sector further starved of coal would mean lengthier electricity cuts for consumers and industry, and a crippling loss in economic efficiency. It would call into question the viability of some of India's biggest companies and put enormous pressure on Indian banks, which have an estimated exposure of about $16.5 billion in the power sector alone.
Equally important, it would further darken the climate for investment in India, which had only just begun to brighten after the election of reform-minded Prime Minister Narendra Modi in May. Any hope of raising the economy's growth rate from below 5 percent to 6 percent and higher would be set back by at least a year if not longer.
Judges would do better to impose stiff financial penalties on the companies involved. They might feel unfairly targeted; after all, it was the government that decided how to hand out licenses in the first place. But the economy at large wouldn't suffer as much.
No court ruling, though, can address the larger problem: India's Coal Nationalization Act of 1972. Under that law, which can only be amended or repealed by Parliament, only Coal India Ltd., a government-owned company, is allowed to mine coal and sell it in the open market. As a monopoly, Coal India makes supernormal profits. It has little incentive to ramp up production to meet demand. Indeed, despite being a coal-abundant country, India runs short by about 100 million tons of coal each year. It was because of this artificial shortage that the government started allocating "captive" mines to private companies in the first place.
If India is to return to rapid economic growth, the country desperately needs an abundant and cheap supply of coal. For that, the sector needs to be denationalized and opened to competition from the private sector, whether domestic or foreign. Competitive bidding only makes sense when there is no monopoly player in the market.
The Supreme Court can punish an ill-conceived and poorly executed government program next week, but it cannot privatize the coal sector. That's a decision for Modi's government to make -- and one it should, sooner rather than later.
This column does not necessarily reflect the opinion of Bloomberg View's editorial board or Bloomberg LP, its owners and investors.