Hollande's Mitterrand Moment
French President Francois Hollande has borrowed from a left-wing predecessor, Francois Mitterand, who tacked to the center in the 1980s to revive the economy and boost his political fortunes. 
by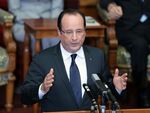 It turns out that French President Francois Hollande shares with his predecessor from the 1980s and '90s a lot more than a first name, the leadership of the Socialist Party and media interest in his private relationships. In a move reminiscent of Francois Mitterrand in 1983 -- also some two years into his presidential term -- Hollande unambiguously signaled this week an economic shift to the center and away from policies advocated by the left wing of his party.