Can the Middle East Redraw Itself?
Amre Moussa's idea of a congress "emanating from the Middle East" itself, rather than from the U.S. or Europe, and focused on how to ensure stability in the region makes sense.
by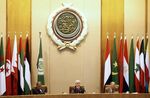 Amre Moussa, the former Arab League head from Egypt, is calling for a Middle Eastern equivalent of the 1814 Congress of Vienna, in which Europe's great powers established a new order to prevent wars between empires following the defeat of Napoleon. Admittedly, Moussa quickly backtracked to say the plan couldn't initially include Iran, Turkey or Israel, making it really just another Arab League meeting. Still, I think he's onto something.