view
Renaming Washington's Football Team Again
Maybe renaming the Redskins won't be so easy after all.
by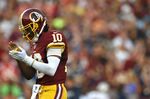 A follow-up to my column last week about the name of, let us say, Washington's football team: I should have mentioned the news about Mike Carey, recently retired as one of the best referees in the National Football League, who refused for the final eight years of his career to work any game involving Washington. Carey's protest was a quiet one, and he wasn't trying to get others to go along. His description last week of his decision sparkles with moral clarity: "It just became clear to me that to be in the middle of the field, where something disrespectful is happening, was probably not the best thing for me." He went on to say, "If you're respectful of all human beings, you have to decide what you're going to do and why you're going to do it."
Peter King of Sports Illustrated, the most influential football journalist in the country, suspects that with the news out, the league will crack down: "My bet is that the league won't allow an official, going forward, to dictate any terms about his assignments."
King knows a lot more about professional football than I ever will, but in this case I'm not so sure he's right. Team owner Daniel Snyder's adamant defense of the name has proved an enormous public relations burden for the NFL. Now imagine a Carey-style rebellion spreading among referees and other game-day officials. Should the news get out that the league was quashing the revolt -- and the news would certainly get out -- the harm to the NFL's carefully burnished image would be enormous. So far, the effort to change the name seems to have salience only for a small minority of the general public. But those figures aren't written in stone, and a crackdown on protesting officials could change it.
* * *
A footnote on last week's column: I got an earful from readers, including several Lumbee, who, to say the least, disliked my suggestion that Washington's team be renamed the Lumbee. My apologies. I certainly meant no offense. It may be that I should have put my central point differently. My thought was that Snyder, the team owner, needs a smooth way out. Billionaires do not lightly suffer humiliation, and his fellow owners will shield their colleague as long as they can. One escape path that allows Snyder to announce that he is nevertheless preserving the team's traditions would be a naming deal with an actual tribe. As I pointed out in the column, this solution would work only if he had the tribe's permission. Similar arrangements are occasionally seen in the college ranks, where, for example, Florida State University and Central Michigan University have received permission from the Seminole and Chippewa tribes respectively to use their names. A naming deal with Snyder would probably be worth several million dollars a year.
If the views of my Lumbee correspondents are any indication, however, the team would have a hard time obtaining the tribe's permission. Very likely Snyder can still find his fig leaf if he wants one -- just not, perhaps, from the Lumbee.
To contact the author on this story:
Stephen L Carter at scarter01@bloomberg.net
To contact the editor on this story:
Michael Newman at mnewman43@bloomberg.net
Before it's here, it's on the Bloomberg Terminal.
LEARN MORE