It's the End of Berlin's 'Sexy' Era
Berlin Mayor Klaus Wowereit is leaving after a 13-year tenure with the city's economy in trouble but its spirit stronger than before he took the reins.
by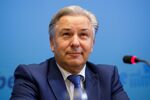 "I will miss his sayings but not his policies," Michael Kellner, a leader of Germany's Green Party, tweeted upon hearing about Berlin Mayor Klaus Wowereit's decision to resign in December. Wowereit has indeed produced some colorful memes, and made some spectacular gaffes, but he deserves to be remembered for more than that.
To the world at large, Wowereit is known for his 2003 description of Berlin as "poor but sexy," a rare example of a mayor coining an unofficial motto that was both truthful and appealing (more recently, Wowereit has been downplaying the "poor" bit as tourists and new residents have driven up prices and rents). In Germany, he will also be remembered as the politician who outed himself during his first run for mayor in 2001 by declaring, "I'm gay, and it's good that way." It takes more than that, however, to be re-elected twice in a city as complicated as Berlin, and for a Social Democrat to run it in coalition first with the former East German communists of the extreme Left Party and then, for the last three years, with Chancellor Angela Merkel's center-right Christian Democrats.
Thirteen years in office is too long for any politician, and Wowereit's party is now behind the Christian Democrats in the polls, a reversal of their positions during the 2011 election, when Wowereit triumphed for the last time. This, however, is Wowereit's city, one he has shaped. The German capital had just been moved to Berlin from Bonn when he was first elected, and the city was not just poor -- it was still painfully split between the post-communist east, with its ugly concrete blocks, pitted pavements and grim-faced residents, and the bourgeois west with its pretty tree-lined streets, art squats and addiction to Cold War-era subsidies. It wasn't so much a city then as an uneasy collection of wildly divergent neighborhoods without a common culture or purpose. People didn't particularly want to live here: Berlin's population had gone down slightly between 1990 and 2000.
By the end of Wowereit's tenure, the seams between east and west are still there, but it's definitely one city. Moreover, it is Germany's one shot at a metropolis: culturally sophisticated, cosmopolitan, English-speaking, proudly multiethnic and tolerant, perennially partying. The population has increased to 3.52 million at the end of last year from 3.38 million in 2000. Many new Berliners are foreigners, but then, the year after Social Democratic politician Thilo Sarrazin published the best-selling anti-immigration book, "Germany Does Away With Itself," Wowereit answered with a pro-diversity book of his own.
Anybody coming to the German capital after a long absence will be struck by the increased number of people cycling to work. Although it has an 11 percent unemployment rate more typical of France than Germany, Berlin feels safer and more welcoming than most big European cities. Wowereit, who has never been one for modesty, should get his share of points for that good-time feeling.
The cold, hard numbers, however, are not as great as an outgoing mayor might wish. Despite the bold claim "that Berlin leads the country in growth," during Wowereit's tenure the city's economy grew at a somewhat slower pace than Germany as a whole, and quite a bit slower than its economic powerhouse, Bavaria: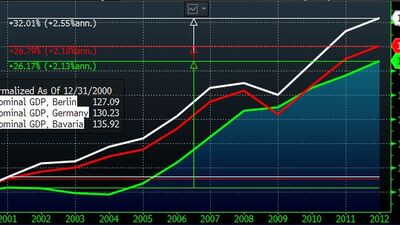 The city, which has the status of a federal land, or state, is saddled with $79 billion in debt, and it could not make ends meet without transfers from the federal budget. It is one of the biggest net recipients of such transfers:

The support is supposed to end in 2020, when the states will be required to balance their budgets before they can ask for federal aid. Berlin has planned to produce a balanced budget by 2016, but Wowereit is shrewdly getting out before then.
There's also a limit to how much abuse Wowi, as he is known to Berliners, could take for the failures of what is perhaps Germany's most notorious construction project: the new Berlin Brandenburg Airport. Ground was broken on the airport in 2006, the year Wowereit was re-elected, and it was originally supposed to open in 2011. Now, however, the local news media reports it will not be functional until at least 2016 after a slew of construction errors (the fire-safety system, for example, ignores smoke's tendency to rise and tried to funnel it under the halls), corruption scandals and cost recalculations. When Wowereit announced his resignation, shares in Air Berlin, the long-suffering airline that is supposed to use the new airport as its base, went up.
As a new Berliner, I'll have to live with all of Wowereit's controversial legacy. I am, however, grateful to him for helping build an open city that is not hostile to strangers. Sometimes it's more important for a politician to sense, and bring out, the spirit of a place than to be a good economic manager. In the end, sexy is more important than rich.
This column does not necessarily reflect the opinion of Bloomberg View's editorial board or Bloomberg LP, its owners and investors.