Brazil Loses Its Best Billionaire
Brazilian industrialist Antonio Ermirio de Moraes made his billions the old-fashioned way.
by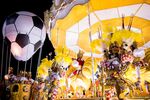 Back in 2005, Brazilian industrialist Antonio Ermirio de Moraes, known equally for his rumpled suits and razor tongue, indulged in a rare moment of openness by sitting for Sao Paulo photographer Paulo Fridman. "My biggest dream," he scrawled in longhand across Fridman's black-and-white picture, "is to see Brazil respected by countries of the so called First World as a country of serious and competent people."
When Moraes died on Sunday, at age 86, of heart failure, he might have been partially satisfied. In his later years, he saw Brazil's global standing rise, from South America's chronic underachiever to rising power, with a $2.2 trillion economy and a leader with global cachet. "That's my man, right here," U.S. President Barack Obama said of then-President Luiz Inacio Lula da Silva, at the 2009 Summit of the America. "Brazil has arrived," Obama added, two years later.
Moraes knew better. As head of the Votorantim Group, one of the country's wealthiest industrial conglomerates, with plays in aluminum, paper, cement and finance, he understood that success rode on more than trade barriers or a hotline to "the man."
Fiercely nationalistic, he almost never traveled abroad and had scathing words for bullying multinationals. One of his favorite reads was Kurt Mirow's "The Dictatorship of the Cartels." Moraes was just as critical of the national business class that preferred "a closed economy, because all its corrupt actions are sheltered." He had no patience for clever executives, with "other goals than production," ever shifting revenue from the factory floor to the money-go-round.
Like many industrialists, he too reaped the benefits of the bell-jar economy that shielded national capital from foreign competitors. But when Brazil opened and stabilized its currency in the mid-1990s, Votorantim didn't wobble. "He knew how to navigate crises," says Mailson da Nobrega, a former finance minister and central bank governor. "He was a profit seeker not a rent seeker."
It ran in the family. Antonio's maternal grandfather was a moneyless Portuguese immigrant with a grade-school education who sold shoes and textiles in the interior of Sao Paulo. His son-in-law, Jose Ermirio, the son of a northeast sugar baron with an engineering degree, took the family business from fabrics to smokestacks, just as Sao Paulo was becoming South America's biggest factory floor.
Enter Antonio Ermirio, the eldest of the dynasty's third generation, who converted the group into Latin America's fifth-largest industrial conglomerate making concrete, steel and paper, and expanding into energy and finance. Today, Votorantim boasts 60,000 employees and a footprint in more than two-dozen countries.
Moraes became one of Latin America's richest men, worth about $5.5 billion when he died, though it was hard to tell. A monk in a culture of peacocks, he didn't buy expensive toys, schmooze with power or keep a bodyguard. Almost antisocial, he spent most weekends at his desk.
He also cut a contrast in a country of family-owned companies, where princelings with pretend diplomas often squandered the founders' fortunes. Before taking over Votorantim, Moraes studied at Colorado School of Mines, as did his father. There he ate bag lunches and reportedly gave up drinking after a college bender, to celebrate good grades, landed him in the emergency room.
He had no stomach for dictators, either. In the 1970s, when the ruling generals warbled of Brazil's economic miracle, Moraes said, bluntly, he saw no magic, only deficit spending. He joined seven other top executives in a manifesto calling for the return of democracy, then ran for governor of Sao Paulo in 1986. He failed and, disheartened at the parlor games, quit politics for good.
But he never stopped grousing to better Brazil, pressing for tax reform, less red tape and a crackdown on corruption. He tried his hand as a playwright and, more successfully, as a philanthropist, turning the Beneficencia Portuguesa into a model public hospital. There, doctors still tell of the man in a rumpled suit, dropping in for a surprise inspection.
This column does not necessarily reflect the opinion of Bloomberg View's editorial board or Bloomberg LP, its owners and investors.