Learn Math or Get Left Behind
Too many Americans don't have the math skills needed to succeed, much less understand the risks of investing.
by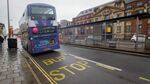 Last week, we discussed the problems with havingpoor reading comprehension and the impact that has on consuming news. This week, I want to look at the lack of math skills.