France's Fake Crisis Boosts the Far Right
The French government's reshuffle in the wake of a rebellion by leftist ministers is a pointless political show that plays into the radical opposition's hands.
by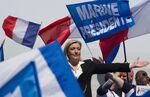 France is reshuffling its government for the second time in 147 days because at least two leftist ministers rebelled against Prime Minister Manuel Valls's pro-business, anti-spending inclinations, such as they are. As traditional center-left and center-right politicians bicker about inefficient, half-baked fixes for real economic problems, public trust for them is at rock bottom, and the extreme right stands to gain the most.
Valls's cabinet was always a shaky creation. To counter the prime minister's reputation as something of an economic conservative within the ruling Socialist Party, President Francois Hollande packed the government with his old friends and co-workers, including his former partner Segolene Royale. He also promoted the fiery leftist Arnaud Montebourg from industry minister to economy minister, with expanded powers.
It did not take Montebourg long to rebel. In an interview with Le Monde last week, he launched a vicious attack on Germany for the "austerity policy it has imposed on all of Europe." He raged: "If we align ourselves with the most extreme orthodoxy of the German right, this will mean French people's votes have no legitimacy and alternatives do not count."
As far as Montebourg is concerned, the government should cut taxes for the middle class and forget about reducing its budget deficit to the 3 percent of output required by the European Union. As for the European Central Bank, it should start buying up government debt "to restart growth".
Montebourg had allies in the cabinet, and some were similarly outspoken. The day after Montebourg's interview, education minister Benoit Hamon backed him in Le Parisien. "Relaunching demand is a condition of success for the supply-side policy that has been pursued for the last 10 years," he said. "You can't sell anything to the French if they don't have sufficient income."
The government, built like the mind of a drunk who craves a shot but fears facing the Alcoholics Anonymous meeting tomorrow, was dysfunctional from the start. The budget debate is starting in September, and Valls had had enough. Le Monde quoted a source close to him as saying Montebourg had "crossed the red line." So Valls resigned and was promptly asked by Hollande to form a new cabinet in accordance with his own views on how the economy should be run. When the lineup is announced tomorrow, Montebourg is almost sure to be gone.
Lowering business taxes in France certainly makes sense, and so does cutting government spending. In 2013, it stood at 57.1 percent of gross domestic product, compared with 49.1 percent for the EU as a whole and 44.7 percent for Germany. The problem is that the Hollande-Valls plans -- so dear to them that they are staging another government reshuffle -- are pitifully insufficient.
The president has committed to cutting taxes by 40 billion euros ($53 billion) and reducing spending by 50 billion euros. Considering that the country stands to spend 1.18 trillion euros this year, all the fighting is about a 4 percent reduction in spending that would not change the French government's status as the second most free-spending one in the EU (significantly, after the Greek one).
The tragedy of French politics is that all the clashes of principle, all the battles of honor and ambition, are about things that will not affect voters' lives in any significant way. If Valls were suddenly replaced with Montebourg, the government's rhetoric would be more in keeping with the ruling party's name, but it would not be much more socialist in content, if only because France is constrained by membership in the EU and the euro area. If, on the other hand, the center-right were to defeat the Socialists in a hypothetical early election, they'd be too shy to launch serious structural reforms for fear of giving rise to unrest.
Do-nothing governments are unpopular. Valls, whose approval rating was slightly above 50 percent when he became prime minister, is now at 36 percent, while Hollande's 17 percent is so hopeless he could probably only improve it by saving a dozen drowning children.
It's the extreme right National Front, led by Marine Le Pen, that benefits from the clueless centrist politicians' ineffectual gymnastics. Late last month, a poll put her at the top of the next presidential race.The election is not for another three years, but Le Pen may well win unless mainstream politicians finally admit that she's popular because she's not afraid to be radical and propose visible change. The time frame for the establishment to stop waffling and do something -- be it a socialist-inspired, EU-busting spend-fest or a painful structural reform with deep spending cuts that just might spur business growth -- is shrinking.
This column does not necessarily reflect the opinion of Bloomberg View's editorial board or Bloomberg LP, its owners and investors.
To contact the author on this story:
Leonid Bershidsky at lbershidsky@bloomberg.net
To contact the editor on this story:
Toby Harshaw at tharshaw@bloomberg.net
Before it's here, it's on the Bloomberg Terminal.
LEARN MORE