France's Fake Crisis Boosts the Far Right
The French government's reshuffle in the wake of a rebellion by leftist ministers is a pointless political show that plays into the radical opposition's hands.
by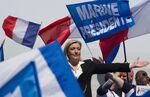 France is reshuffling its government for the second time in 147 days because at least two leftist ministers rebelled against Prime Minister Manuel Valls's pro-business, anti-spending inclinations, such as they are. As traditional center-left and center-right politicians bicker about inefficient, half-baked fixes for real economic problems, public trust for them is at rock bottom, and the extreme right stands to gain the most.