Making Ryan's Tax Plan Smarter
There's a better way to cut taxes. And Republicans are finally starting to figure it out. 
by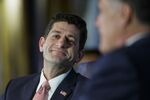 A few days ago, Representative Paul Ryan of Wisconsin waded into a debate among his fellow Republicans about how they should think about tax policy. His words carry weight among Republicans: They almost universally respect his judgment on economic policy, and partly as a result have decided to make him chairman of the tax-writing committee of the House should they keep control of it in November's elections.