Cities Should Crack Down on Airbnb Hosts
Airbnb has agreed to hand over the names of some hosts to New York authorities. This could be the start of greater regulation.
by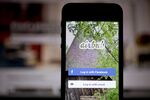 The apartment rental site Airbnb has agreed to provide the New York attorney general's office with the names and other personal details of 124 of its hosts. I hope this marks the beginning of the end of Airbnb's current business model in New York and other big cities, including Berlin, where I live.
Airbnb said most of the 124 being scrutinized are no longer listed on its site. The rest are "hosts with multiple listings," according to Airbnb. It's hard to know why they've been targeted, wrote Airbnb's David Hantman on the company's Public Policy Blog, "without knowing more about why the Attorney General is interested in these hosts specifically."
That's disingenuous: Airbnb knows full well why Attorney General Eric Schneiderman wants the information, particularly about those who have listed multiple properties for rent. In April, Schneiderman published an essay in the New York Times voicing suspicion that some Airbnb "hosts" are, in fact, "large, commercial enterprises with dozens of apartments -- truly illegal hotels." If so, said Schneiderman, they are violating New York's 2010 law against short-term rentals in apartment buildings.
If Airbnb shares information about such hosts with authorities, their rental activity becomes very risky. Likewise, the San Francisco startup may not always protect the data of ordinary apartment owners who rent out a room to supplement their income. The government would like to know whose rental income is not reported. If Airbnb caved by delivering a few names, it will probably give up the rest eventually, provided enough pressure is applied. Even for hosts whose taxes are in perfect order, that may mean additional scrutiny and unpleasantness.
Yet I think Airbnb and its hosts had it coming. I am a renter myself, and recently completed the harrowing experience of a Berlin apartment search. There are so few decent apartments on the market that about 20 potential tenants show up at every viewing. Prices are climbing at a steady pace, and rental contracts take account of that. Landlords get to pick and choose, asking uncomfortable questions about your finances, family life and professional background. Despite steady employment, I was turned down for three apartments before I found the one my family now lives in. It's in Mitte -- one of three areas of central Berlin where Airbnb rentals are concentrated.
I'm pleased that Berlin has banned short-time rentals without express permission from the city government. In central neighborhoods, it's much more lucrative to rent by the day than by the month. So if rentals were unregulated, long-term leases would be relegated to the city periphery. That's true in most big cities, including New York. In addition, I don't want to live in a building that functions as an ad-hoc hotel.
Finally, regulating rentals better serves the travelers themselves. Dealing with a large, centralized service like Airbnb lulls tourists into a false sense of security. They can easily end up in locations -- and situations -- they would have liked to avoid.

Why do people need to supplement their incomes by renting in the first place? If your apartment is too big for your needs, you can always rent it out long-term and find a smaller one, or simply trade down. If that's not possible, and short-time renting is one's only hope, some rules should apply. Amsterdam, considered an Airbnb-friendly city, allows people to rent out their residences for up to two months a year to a maximum of four people at a time. That's reasonable: It's relatively hassle-free for neighbors and not destructive to the long-term rental market.
Similar restrictions should apply in New York and other big cities. There's nothing wrong with the sharing economy or with earning extra income, but there should be curbs on greed, and taxes must be paid. A city government's stamp of approval would also heighten confidence in the market.
In smaller towns, which cannot always sustain a decent hotel, Airbnb could be allowed to operate unregulated. Small communities are better than large cities at policing themselves, and travelers would be glad of the convenience -- and the often unforgettable experience -- of living like locals. A tighter regulatory regime might force Airbnb's $10 billion valuation down a bit, but it would still be a viable business -- without many of its current risks and unpleasant side effects.
This column does not necessarily reflect the opinion of Bloomberg View's editorial board or Bloomberg LP, its owners and investors.