Want to Buy the Plaza Hotel? Bail Out a Tycoon
Who could have imagined that Manhattan's Plaza Hotel would be not the site but a central character in one of the strangest hostage dramas ever seen in India?
by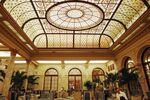 The Plaza Hotel in Manhattan is more than 100 years old -- old enough to carry as much history as perhaps any New York institution and harbor as many secrets. Who could have imagined, though, that it would be not the site of but a central character in one of the strangest hostage dramas ever seen in India?
For the last few months, tycoon Subrata Roy has been incarcerated in New Delhi's Tihar prison. India's Supreme Court has now ruled that Roy can leave the jail only if he raises approximately $1.6 billion for his bail bond.
Roy is the head of the colossal Sahara India Pariwar financial-services group and the possessor of a Rolodex that includes virtually all of India's rich and powerful. Sahara also has a majority share in the Plaza, secured in 2012, in somewhat better times. Now, in order to secure his release, the chief executive officer -- or "chief managing worker," as he likes to call himself -- must find a buyer for the Plaza, one of the more solid assets in his shaky portfolio. If you have a few hundred million to spare (the group's own valuation of the hotel is $635 million), this might be the time to step in if you're looking for a bargain.
Perhaps you could even book a suite at the Plaza from which to pursue your negotiations. As for the seller, it doesn't appear that he is too badly off. That's because Roy was recently been moved from his 50-square-foot cell to the "conference room," where he has Wi-Fi, teleconferencing facilities and a nice bed to sleep in. "Never in the history of Tihar would such infrastructure have been provided to any prisoner," one jail official said. Roy has until the end of the month to broker a deal.
How Roy incurred the ire of the Supreme Court is in itself an interesting and instructive story, one that reveals much about India's business environment and the attitudes and beliefs of small investors.
In the beginning, we know, was the word. In this case, it's one Roy has popularized in India over the course of the last two decades: "parabanking," or the activities of what India's Reserve Bank calls nonbanking financial companies -- what some would call shadow banking.
Many Indians with only small amounts of cash to spare -- including a surprising amount of people who run small businesses themselves -- gravitate toward financial instruments that promise quick returns through investments in unspecified purposes. Sometimes these are only Ponzi schemes, as evidenced by the scale of the "chit fund" scams exposed in the state of Bengal last year. Particularly in Uttar Pradesh (population 200 million), Roy was long seen as both a business baron and a political kingmaker, someone whose connections and special access made him even more bankable than an actual bank.
Doubts over the integrity of Sahara's operations have circulated in India for a long time, though the group avoided falling afoul of the law. Then, in 2010, a massive bond scheme floated by two Sahara companies came to the attention of the Securities and Exchange Board of India. The regulatory body found Sahara's own account of the scheme compromised by an inquiry that revealed many of the names and addresses on the company's books to be fictitious. The matter proceeded, via legal suits and appeals from Sahara, all the way to the Supreme Court, which asked Sahara to cough up the entire amount it had raised and deposit it in a bank account to be then administered by SEBI, which would pay out refunds subject to the "investors" being traced.
The order was only met in part by Sahara, which led to Roy and two other Sahara directors being taken into custody earlier this year -- and his current desperate attempts to raise cash from abroad. The venture has another layer of intercontinental interlocking: Sahara had taken a substantial loan from the Bank of China to buy the Plaza and two other hotels in 2012.
Some people in India, while having little sympathy for Roy, see no great difference between the court's actions and those of taking a hostage. Surely a bail bond is an instrument that doesn't allow for prices to be set by the courts. If Roy has committed a crime, the response should be a charge sheet, not another venture to raise capital. Even the act of trying to raise cash has allowed Roy to set up a special jail operation that would never be granted to any other prisoner. It's not clear whether justice is being served with each successive step, or just further contorted. I wouldn't bet against the Plaza being bought by some Indian agent or operation that owes Roy a favor.
Whatever the denouement in this particular episode -- one sure to figure prominently in any future history of India's post-liberalization Gilded Age and its many extravagant, mercurial protagonists -- the Plaza Hotel of Manhattan just wrote itself into Indian business history. And from the moment I realized that so much of Roy's life work was motivated, apparently, by nationalism -- don't listen to those skeptics who think the words "Mother India" can sanctify just about anything in India, from business to bigotry -- I have, I'm afraid, caught the bug myself.
I'm thinking of checking into the Plaza for a night while it's still owned by a patriot from the motherland.
This column does not necessarily reflect the opinion of Bloomberg View's editorial board or Bloomberg LP, its owners and investors.
To contact the author on this story:
Chandrahas Choudhury at chandrahas.choudhury@gmail.com
To contact the editor on this story:
Brooke Sample at bsample1@bloomberg.net
Before it's here, it's on the Bloomberg Terminal.
LEARN MORE