What Mattered This Week?
What's happening in Iraq matters.
by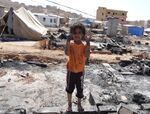 There is still so much news. I'll stick with Iraq and Islamic State this week as the thing that mattered, but obviously the news from Iraq wasn't the only issue.
What didn't matter? Senator Mitch McConnell's interview in which he threatened to put policy riders on appropriations bills if he has the chance. No news there. What will matter is whether the radicals decide they want a shutdown -- and if they do, whether House and Senate's mainstream conservatives will go along. McConnell's comments didn't add anything to what we know about that.

So that's what I have. What about you? What do you think mattered this week?
This column does not necessarily reflect the opinion of Bloomberg View's editorial board or Bloomberg LP, its owners and investors.