Merkel Takes Charge of Pacifying Ukraine
German Chancellor Angela Merkel appears to have landed the role of chief negotiator in the Ukraine conflict. Expect an uneasy compromise.
by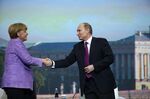 As keeps happening, German Chancellor Angela Merkel finds herself in a leading role on the global stage -- this time in resolving the Ukraine crisis. Of all the world leaders, she's the one visiting Kiev tomorrow on the eve of Ukraine's Independence Day celebrations. Foreign Minister Pavlo Klimkin expects nothing less than a "Merkel Plan" to rival the U.S.'s post-World War II Marshall Plan for Europe.