Merkel Takes Charge of Pacifying Ukraine
German Chancellor Angela Merkel appears to have landed the role of chief negotiator in the Ukraine conflict. Expect an uneasy compromise.
by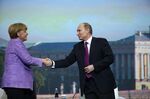 As keeps happening, German Chancellor Angela Merkel finds herself in a leading role on the global stage -- this time in resolving the Ukraine crisis. Of all the world leaders, she's the one visiting Kiev tomorrow on the eve of Ukraine's Independence Day celebrations. Foreign Minister Pavlo Klimkin expects nothing less than a "Merkel Plan" to rival the U.S.'s post-World War II Marshall Plan for Europe.

As usual, however, Merkel will probably damp expectations of anything spectacular, while playing the part that falls to her by default. Although Merkel's East German heart may be with the Kiev politicians trying to break from an increasingly re-Sovietized Russia, and though she may be irritated with Russian President Vladimir Putin's poker-faced intransigence, her interest is in calming things down so Germany can go about the business of repairing its economy.
The German Finance Ministry said in its monthly review of the nation's finances that the unexpected 0.2 percent drop in second-quarter gross domestic product must have been due to "the economic skid marks of the Ukraine crisis," citing both "the direct effect of sanctions against Russia and economic players' uncertainties." The sanctions have broadened since, as the crash of Malaysia Airlines Flight 17 fortified European leaders' resolve. Russia has retaliated by banning some imported foods, so the uncertainties were justified.
Today, the German Economics Ministry approved the sale of RWE AG's Dea oil and gas unit to Russian billionaire Mikhail Fridman and his partners, evidence that transactions with private Russian companies not beholden to the state should be able to proceed, even if much of Western business remains allergic to all things Russian.
Since the crisis started with the Crimea annexation in March, Merkel has talked to Putin on the phone more than any other leader -- 33 times, by the German daily Die Welt's count, 21 of which were one-on-one. French President Francois Hollande is Putin's second most-frequent interlocutor, but they've only talked 15 times, six of them one-on-one. While Putin and Merkel are fluent in each other's languages, and the Russian president is a Germanophile, it's more likely that Merkel is simply running with a ball that everybody else has dropped.
Dealing with Putin is hard. He stonewalls, manipulates, deals in half-truths and diversions. The straight-talking Merkel must get a headache every time, but she keeps the dialogue going, while U.S. President Barack Obama hasn't talked to Putin since Aug. 1. The most recent Merkel-Putin exchanges, on Aug. 6 and Aug. 16, were unpleasant: The chancellor kept insisting, over Putin's customary denials, that he should stop arming and supplying separatist rebels in eastern Ukraine.
If anyone in Kiev expects, however, to find it easier to talk to Merkel than Putin, they are probably mistaken. She's not visiting as a fairy godmother with fresh promises of cash or military support. She's there to put pressure on President Petro Poroshenko to pull his punches in the east.
Last month, the Independent newspaper in London, owned by Russian ex-billionaire Alexander Lebedev, published an unsubstantiated but widely quoted story about a possible secret deal between Putin and Merkel to force a peace on Poroshenko with European recognition of Crimea as Russian territory -- something akin to the arrangement that resulted from French President Nicolas Sarkozy's mediation of the Russia-Georgia conflict in 2008. Merkel, however, is no Sarkozy: Her history as a conflict mediator and crisis manager has been about squeezing concessions from both sides, even if it watered down both victory and defeat.
That might mean Merkel exacerbates Ukrainian radicals' disillusion with Europe. Political scientist Andrei Miselyuk argued on Pravda.com.ua yesterday that Kiev should resist German pressure to do a deal with Putin and push ahead with its military operation against the rebels, in keeping with the tough line taken by the U.S.
American support, however, will probably prove illusory: Merkel and the Europe she leads have a bigger stake in the outcome, and Obama, faced with fresh problems at home, will be relieved to have his Berlin ally at the helm. The chancellor's Kiev visit is the start of a trademark Merkel slog toward an agreement that both sides may resent but will reluctantly honor.
This column does not necessarily reflect the opinion of Bloomberg View's editorial board or Bloomberg LP, its owners and investors.
To contact the author on this story:
Leonid Bershidsky at lbershidsky@bloomberg.net
Before it's here, it's on the Bloomberg Terminal.
LEARN MORE