Gold Bonds' Glittering Future
A South African bank has created the world's first bond fully denominated in gold. Securities backed by the yellow metal have a glittering future.
by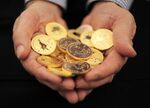 In these post-credit-crisis days, true innovation in the shell-shocked world of money is a rarity. Mistrust of the financial industry, central banks and fiat currencies, however, is ubiquitous. So a new breed of security that combines innovation and mistrust is noteworthy.