Friday Baseball Blogging: The Best Players I've Seen
Here's my list of the best players I've seen in action. Who have you seen?
by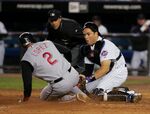 I'm hoping to see Bryce Harper this weekend. He was hurt when I saw the Washington Nationals earlier this season but, if my travel works correctly, I'm planning to see the Nats and the Giants on Sunday. It will be the first time I've seen Joe Panik, as well. Here's my All-Time I've Seen 'Em Play (in person) Team:
Catcher: Mike Piazza
Second Base: Joe Morgan
Third Base: Mike Schmidt
Left Field: Barry Bonds
Center Field: Willie Mays
Designated Hitter: Frank Thomas
Pitcher: Roger Clemens
Pitcher: Greg Maddux
Pitcher: Randy Johnson
Pitcher: Mariano Rivera
The 25-man roster is fun: I would have Rickey Henderson and Ken Griffey in the outfield with Ozzie Smith as my utility infielder.
What I should think about is the list of the best players who were active from the 1970s on that I missed. But this list is more fun.
This column does not necessarily reflect the opinion of Bloomberg View's editorial board or Bloomberg LP, its owners and investors.