And the Redskins' New Name Is ...
If Washington Redskins owner Daniel Snyder's goal is to honor American Indians, who finer to honor than the Lumbee?
by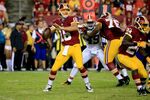 It has been a rough year for the nation's most popular sport. From anti-gay slurs in the locker room to what amounts to a slap on the wrist for a player who beat his fiancee unconscious to the recent embarrassment over an apparent effort to get potential performers to bid for the right to appear in the Super Bowl halftime show, the National Football League has had quite a run of bad publicity -- mostly of its own making. And with the new season almost upon us, the NFL would dearly like to change the subject.