Trade of the Day: Solar's Bright Future
The Trade of the Day is to install some solar panels before the industry runs out. 
by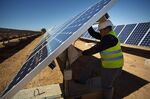 Africa is set to install more renewable power this year than it has in the past 14 years, according to Bloomberg New Energy Finance. The continent will add about 1.8 gigawatts of capacity as $5.9 billion gets invested, compared with the $1.1 billion that was spent from 2006 to 2011, Bloomberg's Justin Doom reported today.