Trade of the Day: Solar's Bright Future

Mark Gilbert is a Bloomberg View columnist and writes editorials on economics, finance and politics. He was London bureau chief for Bloomberg News and is the author of "Complicit: How Greed and Collusion Made the Credit Crisis Unstoppable."
Read More.
Africa is set to install more renewable power this year than it has in the past 14 years, according to Bloomberg New Energy Finance. The continent will add about 1.8 gigawatts of capacity as $5.9 billion gets invested, compared with the $1.1 billion that was spent from 2006 to 2011, Bloomberg's Justin Doom reported today.
As energy gets greener, the solar industry is starting torun out of photo-voltaic panels, raising the prospect of a shortage. Worldwide solar installations will reach 52 gigawatts this year and 61 gigawatts in 2015, up from 40 gigawatts in 2013 and a sevenfold increase from five years ago, according to Bloomberg New Energy Finance.
So the Trade of the Day is to install some solar panels before the supplies grow tight. Not only are you doing your bit for the environment, but you'll be less of a threat to our feathered friends than previously thought: more birds are killed by cars, cats and communications towers than scorched by solar installations, Bloomberg'sEhren Goossens reported today.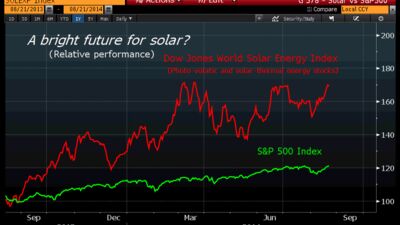 This column does not necessarily reflect the opinion of Bloomberg View's editorial board or Bloomberg LP, its owners and investors.
To contact the author on this story:
Mark Gilbert at magilbert@bloomberg.net
To contact the editor on this story:
James Greiff at jgreiff@bloomberg.net