Oil Subsidies Hold Back Indonesia
Indonesia's outgoing president should do his successor one big favor before leaving office: start lifting unsustainable fuel subsidies now.
by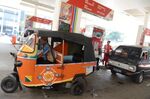 Indonesia is undergoing what one local think tank calls its "John Adams Moment": the first peaceful transition from one democratically elected leader to another. Outgoing President Susilo Bambang Yudhoyono -- who will hand over to his successor, Jakarta governor Joko Widodo in October -- says he understands the historical import. "I promise to help anyone who becomes the next president," he declared last Friday. "It's my moral obligation as a former president and as a citizen who wants to continue serving the country."
If he's serious, there's one thing Yudhoyono could do that would not only aid his successor, but bolster his own legacy and serve Indonesia: raise oil prices, and make a start on lifting other inefficient subsidies, before he leaves office.
As in so many other countries, the fuel-price support Indonesia doles out is blowing a hole in the national balance sheet. Subsidies will eat up an estimated $31 billion this year -- as much as 20 percent of the budget. They contribute to a deficit estimated at 2.4 percent of gross domestic product and to Indonesia's last junk credit rating (from Standard and Poor's). They starve other programs -- from road-building to education and health care -- of desperately needed funds.
Yudhoyono, who has long argued for lifting the subsidies, only managed to bump up prices modestly during his term. It's easy to understand the former general's trepidation. In 1998, a fuel-price hike helped trigger the deadly riots that drove dictator Suharto from power. Yudhoyono felt his remit was to maintain social stability, not to stoke fresh chaos. And convincing lawmakers to go along would've been no easy task.
"Few policies place good economics so directly at odds with good politics as subsidies for food or energy," writes Harvard University's Jeffrey Frankel in a World Economic Forum report calling on new leaders in Indonesia, India and Egypt to act. He concludes that it's best to get the pain over with quickly: "The savvy politician should probably announce the unpleasant adjustment as soon as he takes office."
Having failed to do that himself, Yudhoyono could make Widodo's job a little easier by acting now. Eliminating subsides in one fell swoop would be a reach, politically. And it could destabilize a nation that's seen its Gini coefficient, a measure of inequality, widen to 0.41 in 2012 from 0.35 in 2005, the year after Yudhoyono became president. But the lame-duck president could announce an immediate reduction in the 43 cents per liter fuel subsidy to, say, 25 cents.
Yudhoyono also could announce some technical changes, like capping fuel aid at a time when global energy prices might shoot higher at any moment. Limiting the volume of fuel that's subsidized would insulate Indonesia from external shocks and the national balance sheet from ugly surprises. That step alone would educate Indonesian households that oil-price gyrations are natural phenomena -- and show why cash transfers would be a more efficient way to help struggling families.
"People will learn that this is how the oil price is supposed to be," Vice Finance Minister Bambang Brodjonegoro told Bloomberg News in an Aug. 12 interview.
At the very least, it would lay the groundwork for Widodo to go further. A bold gesture now could also change the narrative of Yudhoyono as a spent force. It might distract attention from corruption scandals that have enmeshed top officials in his Democratic Party (including even his son, Anas Urbaningrum).
There are, of course, myriad reasons why this is all highly unlikely. Yudhoyono's party didn't support Widodo in the July election. It's also already drawn up its budget for fiscal 2015. Lawmakers might try to reject major alterations now.
Still, it's worth a shot. Just 64, Yudhoyono is well-positioned to act as one of Asia's elder statesmen for many years to come. But he needs a grand gesture to remind Indonesians -- and the world -- of the audacity and energy of his first years in office. Hiking oil prices would do that nicely -- and increase the next generation's odds of success.
This column does not necessarily reflect the opinion of Bloomberg View's editorial board or Bloomberg LP, its owners and investors.
To contact the author on this story:
Willie Pesek at wpesek@bloomberg.net
To contact the editor on this story:
Nisid Hajari at nhajari@bloomberg.net
Before it's here, it's on the Bloomberg Terminal.
LEARN MORE