Editorial Board
Janet Yellen Takes On Jackson Hole
As central bankers gather at Jackson Hole, it's important that Federal Reserve Chair Janet Yellen disabuse them that wage pressures are building and inflation is looming. Neither is happening.
by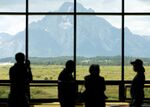 The economic-policy debate in the U.S. is moving from "Why is the recovery so sluggish?" to "Is inflation starting to get out of hand?" This shift is premature, to say the least. Federal Reserve Chair Janet Yellen should say so Friday when she addresses the annual summer confab of central bankers in Jackson Hole, Wyoming.
The meeting's main topic this year is labor markets. Good choice. Tightness in the labor market would be a strong sign that higher inflation, led by higher wages, is coming. In fact, there's little or no sign of this, despite the recent drop in headline unemployment.
Almost 10 million people remain officially unemployed, and about a third have been out of work for more than 27 weeks. Inflation hawks -- a small but increasingly vocal group among the Fed's governors, together with a growing roster of academic economists -- think the long-term unemployed aren't likely to return to the job hunt.
If the hawks were right about this, the 6.2 percent unemployment rate would be misleadingly high. Lately it has fallen faster than at any time since the 1980s -- but, the hawks argue, even this drop understates the job market's tightness. The long-term unemployed aren't looking for work, so they aren't offering to supply labor or helping to restrain wages. In effect, the unemployment rate has fallen to about 4 percent.
That's full employment, and it implies that higher wages and higher inflation aren't far behind. It's time, in this view, to start raising interest rates.
This is wrong because the long-term unemployed shouldn't be written off. Nor should all of the so-called discouraged workers who have dropped out of the labor market altogether (and no longer count as unemployed). If the recovery strengthens, many of both groups will resume their search for work. Raising interest rates too soon risks braking the still-recovering economy and foreclosing those job opportunities.
Yellen's dashboard of labor-market indicators still shows labor-supply excess. The participation rate is low. Underemployment -- part-time workers and the jobless who'd like a full-time job -- has declined but remains elevated at 12.6 percent. It all points to ample slack in the market.
Hawks who worry that the economy could soon overheat point out that the Fed's preferred inflation index is rising fast. It was 1.8 percent in May, but dropped back to 1.6 percent in June. That is still comfortably below the Fed's 2 percent target.

Employers' intentions on wages are consistent with this, according to the Atlanta Fed's survey of businesses. Although 77 percent of companies said they expect to increase compensation in the coming year, that's less than the 81 percent who said the same last year. The average expected increase, 2.7 percent, is also slightly down. Allowing for the gap between the raises companies say they expect and the smaller ones they actually deliver, the survey suggests that wage pressures are lower now than in 2013.
Wage data from the U.S. Bureau of Labor Statistics point the same way. Hourly pay in nominal terms grew about 2 percent in the year to June -- far below the 3 percent to 4 percent Yellen considers normal. Bloomberg News reports that five years of economic expansion have done almost nothing for the typical American worker's paycheck. Inflation-adjusted hourly wages have grown by 0.5 percent since 2009 -- the weakest rate since World War II. At similar points in past expansions, wages had risen more than 9 percent.
At bottom, this debate is about whether the recession has damaged the U.S. workforce in ways that more Fed stimulus can't ever correct. It's possible that it has -- but too soon to draw that dismal conclusion, much less act on it. Yellen doesn't need to settle the matter right now. She ought to keep the argument focused on whether the slowly healing labor market is causing inflationary pressures. When the U.S. really is back at full employment, wages will confirm it. So far, they're saying the opposite.