Why Do More Men Commit Suicide?
Suicide researchers are puzzled by data showing that men commit suicide more often than women do -- about four times as often -- even though most studies find that women are twice as likely to be depressed and also more likely to have suicidal thoughts.
by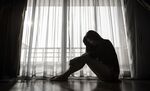 Robin Williams's death has brought welcome attention to the very real problem of suicide in the U.S. From 2000 to 2011, suicides increased to 12.3 per 100,000 people from 10.4. Deaths by suicide now exceed those from motor-vehicle accidents.