Urban Outfitters's Existential Crisis
If Urban Outfitters wants to attract an older clientele, it still has a lot to do to tone done the rebellion and bizarre. 
by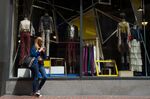 "Don't do school eat your drugs stay in vegetables." That's the message on one of Urban Outfitters's trademark graphic T-shirts. But the word jumble can also be seen as a metaphor for the bind the retailer finds itself in: Long known for its radical teen clothing and controversial products, Urban Outfitters seems confused about what it wants to be and what it wants to say.