Trade of the Day: A Nice Cup of Kenyan Tea

Mark Gilbert is a Bloomberg View columnist and writes editorials on economics, finance and politics. He was London bureau chief for Bloomberg News and is the author of "Complicit: How Greed and Collusion Made the Credit Crisis Unstoppable."
Read More.
Iceland is bracing for a possible eruption at itsBardarbunga volcano for the first time since 1996, after about 800 earthquakes in its vicinity in the past few days prompted the nation's Met Office to raise its alert level for the mountain to "orange," signifying "increased potential of eruption."
In April 2010, Iceland's Eyjafjallajokull erupted, leading to more than than 100,000 flight cancellations over the North Atlantic and Europe amid concern lava-loaded ash might destroy aircraft engines. Among the hardest-hit by the flight ban were Kenyan exporters, left with no way to get $12 million of produce to the international market.
Kenya is the world's largest exporterof black tea, and it's the nation's biggest foreign-currency earner. So the Trade of the Day is to settle down to a cup of Kenyan tea while stocks last. And, if you have a European flight planned for the next few weeks, you might check your travel insurance while you're sipping.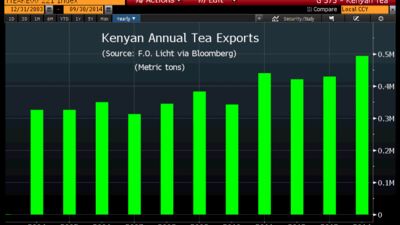 This column does not necessarily reflect the opinion of Bloomberg View's editorial board or Bloomberg LP, its owners and investors.
To contact the author on this story:
Mark Gilbert at magilbert@bloomberg.net
To contact the editor on this story:
James Greiff at jgreiff@bloomberg.net