Smart Cities Build Parks
Dense cities need big parks to thrive.
by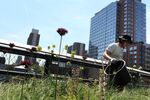 Not far from my house, there is a reservoir and an elderly sand-filtration water-treatment plant that is no longer in service. As with so many things in the District of Columbia, its future use is the subject of heated debate. As I understand the history of the place, the city could have gotten the site for free from the federal government to use as a park, but instead bought it so that it could be developed for residential housing. As that development moves forward, a bitter dispute has grown between the Friends of McMillan Park, who would like to make it a park, and the locals who want more housing there.