Central Bankers Are Getting Itchy
The Bank of England is inching toward higher rates in a preemptive strike to ensure borrowing costs can stay lower for longer. 
by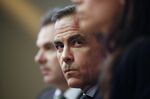 At his Aug. 13 press conference to present the Bank of England's quarterly inflation report, Governor Mark Carney sashayed around a direct question asking whether an early interest-rate increase might be a helpful way to ensure borrowing costs rise only slowly and gradually. Minutes of the central bank's most recent policy meeting, released today, suggest his discomfort was warranted -- and that an increase is likely even before wages start to grow.