Bob McDonnell's Last Campaign
The case of former Virginia Governor Bob McDonnell, unlike others that have gotten governors in trouble recently, confirms the public's fear that the rich are different from you and me.
by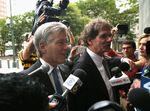 Bob McDonnell arrived Monday at the federal courthouse in Richmond, a few blocks from the mansion he once occupied as Virginia governor, to finally present his defense on charges of corruption. Shorn of the security detail and large staff he once enjoyed, and about 20 pounds lighter, he looked vulnerable.