Advice to Uber: Stop Hating Taxi Drivers
David Plouffe's new job at Uber should be as much about reaching out to taxi drivers as about lobbying politicians.
by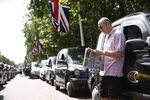 Uber Technologies Inc. has taken a crucial step into battle with taxi companies by hiring consummate political operator David Plouffe to do its lobbying. If it wants its charm offensive to succeed, it should also do a much better job of getting along with actual taxi drivers.