Wanted: More Doctors for Old People
Paying doctors $42 a month isn't enough to end the geriatric-care shortage.
by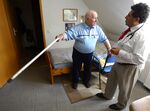 One of the most glaring paradoxes in the U.S. health-care system is the persistent shortage of geriatricians. You've got a group of patients that is growing, and for whom the federal government guarantees health-care coverage. Yet slots in geriatrics programs go begging while people crowd into surgical specialties. Why?