Homebuilders Offer Hope for U.K. Economy
Earnings reports from two of the U.K.'s biggest homebuilders may comfort the Bank of England about both the housing market and wage growth.
by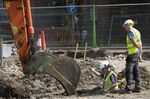 The two elements of the U.K. economy that the Bank of England currently finds most worrying are the overheating housing market and the paucity of wage growth. Earnings reports this week from two of the nation's biggest homebuilders make for cheery reading on both counts.