view
Americans Pay Too Much for Bad Data Plans
Sprint is getting aggressive on mobile data pricing, but not aggressive enough to bring U.S. rates to down to European levels.
by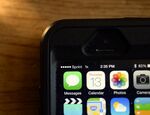 The latest deals offered by mobile-phone provider Sprint fall far short of the "massive price war" once promised by the company's owners at SoftBank, raising a question: Why do U.S. consumers still pay so much money for such bad mobile data service?
Sprint is offering 10 wireless lines sharing 20 gigabytes of data for $100 a month to people who switch to its service. That's better than T-Mobile's four lines with 10 gigabytes for the same price, and even compares well with what I can get at home in Berlin, where a single user can get 1.5 gigabytes of data from Vodafone for $20 a month or 1 gigabyte from Telefonica for $6 (granted, without the hassle of setting up a traffic-sharing commune).
Still, Sprint's offer doesn't mean European phone prices and service are finally coming to the U.S. According to a new study by Wireless Intelligence, a gigabyte per month costs an average of $4.86 globally, $2.50 in Europe and as low as $0.63 in Sweden. A separate study by OpenSignal found the average data speed in the U.S. to be a third of Sweden's and half of Germany's.
One popular explanation for the disparity is that the sheer geographical size of the U.S. requires enormous investment to roll out mobile networks. Indeed, according to the Organization for Economic Cooperation and Development, U.S. telecoms spent about twice as much per person on physical infrastructure than their German counterparts from 2000 to 2011. Americans are also bandwidth hogs: 92 percent have 3G or 4G mobile subscriptions, compared with only 56 percent of Germans, and they are the second heaviest mobile data users after the Japanese.
Despite all that, though, U.S. operators have fatter gross margins than many of their European counterparts: 61.6 percent for Verizon and 46.8 percent for Sprint, compared with 27 percent for Vodafone and 37 percent for Swedish operator Tele2. Once a network has been rolled out, lowering prices is only a matter of operational efficiency. Perhaps that's why foreign telecom entrepreneurs interested in the U.S. market cannot accept all the reasons that wireless data traffic in the U.S. is so expensive and so slow.
"Every time I make a business trip to the U.S., I am reminded how terrible connections are here," Masayoshi Son, president of SoftBank, said this year. Xavier Niel, the winner of a French mobile price war whose investment vehicle Iliad recently made an unsuccessful $15 billion bid for T-Mobile U.S., says this of the American market: "There is enormous potential. It is almost too good to be true."
If Niel finds a way to muscle into the U.S. market, the two of them might blow up the comfortable oligopoly that keeps the price-quality ratio as high as it is now. Alone, Son and Sprint Chief Executive Officer Marcelo Claure can do only so much. The mobile operator oscillates between losses and a tiny profit. Aggressive moves will require heavy subsidies from the parent company that Son doesn't necessarily want to provide. So market leaders Verizon and AT&T shouldn't worry too much just yet.
If U.S. regulators care about consumers, and if they want the U.S. to live up to its role as the nation that created both the Internet and the mobile phone, they should welcome more feisty competitors to the market.
To contact the author on this story:
Leonid Bershidsky at lbershidsky@bloomberg.net
To contact the editor on this story:
Mark Whitehouse at mwhitehouse1@bloomberg.net
Before it's here, it's on the Bloomberg Terminal.
LEARN MORE