Ukraine's Revolutionaries Surrender to Corruption
The heroes of Ukraine's successful winter uprising are quitting the government jobs they took as rewards, now dissatisfied with the pace and radicalism of change.
by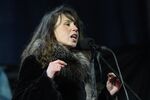 To international audiences, Ukraine is now no more than the scene of a Russian-inspired armed conflict. The fighting, however, is confined to areas that are home to 6.5 million of Ukraine's total population of 45 million. Although the outcome there is important to all Ukrainians, there is a bigger issue: Will the country emerge from the wreckage as a better, cleaner one? Some of the heroes of the Maidan revolution, which toppled the corrupt government of President Viktor Yanukovych in February, are beginning to doubt that.