Ronald Reagan Steals the Show
In "The Invisible Bridge," Ron Perlstein writes of many presidents but devotes his best prose to Ronald Reagan.
by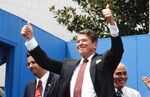 "The reason Milton wrote in fetters when he wrote of Angels and God, and at liberty when of Devils and Hell, is because he was a true Poet and of the Devil's party without knowing it." So said the poet William Blake, referring to the way, in John Milton's "Paradise Lost," Satan steals the show.
Rick Perlstein, author of "The Invisible Bridge: The Fall of Nixon and the Rise of Reagan," is not a poet, but he is an excellent nonfiction writer. And while he knows that Ronald Reagan is nothing like the devil, he is not exactly in Reagan's political camp. Yet when discussing Jimmy Carter, Richard Nixon and Gerald Ford, Perlstein writes in fetters. As soon as Reagan appears, the author is at liberty, and his prose soars.
Perlstein reminds us that as the terrible events of Watergate unfolded, Reagan was Nixon's most consistent defender. Were the Democrats upset that Nixon had bugged their offices? "They should be happy that somebody was willing to listen to them," Reagan quipped.
In Reagan's view, Nixon was "a truthful man." Informed that he himself had been taped when he visited the Oval Office, Reagan answered that the tapes probably "made me sound good." Even after Nixon resigned, Reagan saw the bright side, suggesting that when Americans started to "calm down a bit," they would "take pride" that the system had succeeded in rooting out the few bad apples.
Reagan combined an unflappable optimism about the future with a deep faith in the nation's traditions and institutions. A college acquaintance doubted that he was "intelligent enough to be cynical" -- a revealing mistake. Reagan's lack of cynicism was real enough, but it was a product of emotional commitment, not of any deficit in intelligence. In the words of his son Ron, "He made a lot of stuff up but could pass a lie detector test."
Reagan catapulted to national political prominence in large part because of his aggressive stand against Berkeley's student protestors in the 1960s. In his words, "I'd like to harness their youthful energy with a strap." His political advisers, consulting sophisticated public opinion research, told him not to make an issue of campus militancy; he ignored them. He had cherished his own experience at Eureka College and, as governor, promised he would tell students to "obey the rules or get out."
That moral clarity, offered with firmness and good cheer, defined Reagan's political life. In 1964, he identified the issue of the presidential election: "whether we believe in our capacity for self-government or whether we abandon the American revolution and confess that a little intellectual elite in a far-distant capital can plan our lives for us better than we can plan them ourselves."
In 1975, Reagan called for the Republican Party to raise "a banner of no pale pastels, but bold colors which make it unmistakably clear where we stand on all of the issues troubling the people." Committed to America's uniqueness, he liked to say that "there was a divine plan in the settling of this land between the oceans," and he wanted to make good on that plan.
In the past three decades, two opposing political narratives have been put before the American people. The first, coming mostly from Republicans, is one of recovery; it is about the need to restore the ideals that animated those who created the republic. The second, coming mostly from Democrats, is one of redemption; it is about the need to make good on promises that our imperfect nation has failed to keep. The narrative of recovery looks backward to the timeless wisdom of the founding generation. The narrative of redemption offers a dream for the future.
In the modern era, Ronald Reagan was the greatest champion of the narrative of recovery, and in Perlstein's tale, he steals the show.
This column does not necessarily reflect the opinion of Bloomberg View's editorial board or Bloomberg LP, its owners and investors.