Preserving Disorder in Ferguson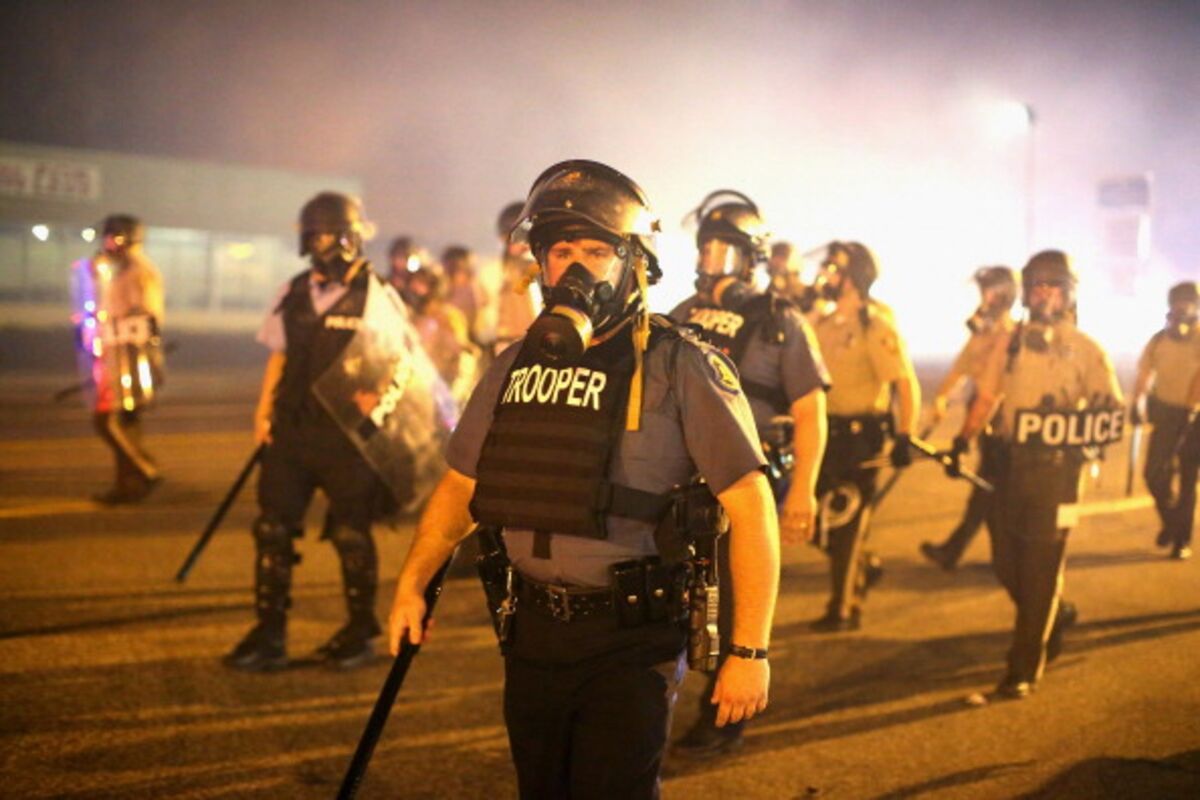 Police advance through a cloud of tear gas toward demonstrators protesting the killing of Michael Brown on Sunday in Ferguson, Missouri.
The rioting that erupted in Ferguson, Missouri, over the weekend calls to mind Chicago Mayor Richard Daley's 1968 gaffe: "The policeman is not here to create disorder. The policeman is here to preserve disorder." In Ferguson, the police are doing an outstanding job of that.
That's partly why Missouri Governor Jay Nixon was right to call in the National Guard today. Yet he must know that the move will not quell the anger among protesters, who are motivated not only by a sense of injustice over an unarmed teenager's death but also out of frustration with a truculent police force. Only when political leaders do a better job of holding police accountable -- an urgent necessity in Ferguson right now, and a priority nationwide -- will tensions truly begin to ease.
Last week, police in Ferguson seemed to take every opportunity to ratchet up tensions over the shooting death of 18-year-old Michael Brown. They mishandled the release of information about the case, attempted to intimidate residents with displays of military power, and were unable to provide basic answers about chain-of-command decisions. When Nixon on Thursday finally appointed State Highway Police Captain Ron Johnson to lead the police response, an evening of calm ensued. Johnson not only pulled back the heavily artillery, but he also walked among the protesters.
Unfortunately, this goodwill evaporated on Friday when the local Keystone Cops released a video -- before releasing Brown's initial autopsy report or a photo of the officer who shot him -- of what appears to be Brown lifting some cigars from a local convenience store minutes before he was killed. The officer who shot Brown did not stop him in connection with the robbery, a fact the police failed to disclose until questioned about it later in the day.
Who thought that the release of this surveillance video -- before releasing information that is far more relevant to the incident -- was a good idea? Not the Department of Justice, which advised Ferguson Police Chief Tom Jackson against it. Not Johnson, who says he was not consulted.
Johnson's ability to listen (and to preach) is impressive. Now he and other authorities need to act -- not simply out of duty but out of expedience. Responding to the legitimate grievances of protesters will also have the effect of marginalizing those who merely want to incite violence. So what can authorities do?
More involvement from the federal government, which President Barack Obama promised today, can help. Attorney General Eric Holder's trip to Ferguson this week to meet with Nixon, police and community leaders is a good sign. One thing Nixon can do is to take even more control of the investigation into the shooting and, equally important, the response. The governor should name a special prosecutor to handle the case, after the county prosecutor called the governor's decision to replace the inept county commander with Johnson "a disgrace." Unless the governor asserts more authority, local and county officials will continue undermining Johnson's work and exacerbating the situation.
What's happening in Ferguson is unique in its intensity and circumstances. But one of its lessons for law enforcement is universal: Inspiring confidence is a prerequisite for preserving order.
--Editors: Francis Barry, Michael Newman.
To contact the editor on this story:
David Shipley at davidshipley@bloomberg.net