Is Your Airline Poisoning You?
Ever since the dawn of the jet age, there have been worries about chemicals leaking into pressurized cabin air. A new study shows that such fears may be warranted.
by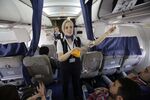 Can airplane cabin air kill? The question has nagged at airplane manufacturers, crew and passengers ever since the jet age shut us into pressurized metal tubes. As far back as 1955, aviation engineers worried about contaminated air in plane cabins, and in 2009, Boeing settled a lawsuit brought by an American Airlines flight attendant who claimed that toxic air leaking into a 2007 flight had caused her health to fail. In the wake of that suit, Boeing insisted that "cabin air is safe to breathe." And until recently, airlines and planemakers could legitimately claim that there wasn't enough scientific evidence to support the accusations.