Three Candidates and a Brazilian Funeral
With the death of Brazilian presidential candidate Eduardo Campos, Marina Silva has been thrust into the running, and posing a threat to incumbent Dilma Rousseff.
by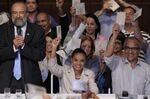 With Brazil still stunned over the tragic death of Eduardo Campos, the presidential hopeful who died in a plane crash on Aug. 13, the aggressive campaign for the Oct. 3 elections has gone circumspect. Blood rivals have lowered their fists, climbed off the stump, and gone out of their way to comfort Campos's family and praise the fallen Socialist Party leader.