Sunday Question for Liberals
Can civil liberties unite liberals and libertarians?
by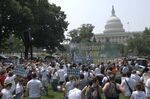 How aggressive should Democrats be in reaching out to libertarians on issues like civil liberties and policing? In terms of electoral effects, do you fear another Republican campaign against "card carrying members of the ACLU," or do you believe those issues no longer work against Democrats?