What's Behind Coke's Monster Mask?
Coke managed to become a bigger player in the booming energy-drink market without seeming to tarnish its legendary brand.
by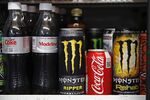 So Coca-Cola Co. is taking a 17 percent stake in the energy-drink maker, Monster Beverage Corp., the company that markets its ubiquitous rocket fuel in those Matrix-like, green-and-black cans.