How China Protects Its Auto Industry
China remains the auto industry's best bet for sustained growth. One problem: the Chinese government. 
by
Sales of passenger cars in China grew almost 10 percent last month from a year earlier despite broader concerns about a slowdown in both the overall automobile business and the Chinese economy as a whole. With auto sales in Brazil, India and Russia struggling to live up to the BRIC hype of a few years ago, the Chinese market remains the global auto industry's best bet for sustained growth. One problem: the Chinese government. A wave of recent intervention suggests that the good times for the world's automakers have increasingly come at the expense of China's strategic auto-industry goals.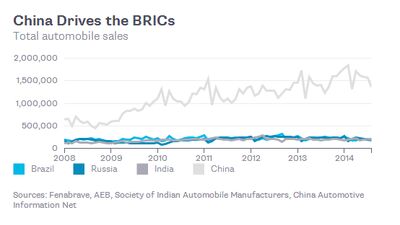 Since it opened its market to outside automakers, China has sought to build its own champions by requiring foreign firms to partner with domestic automakers for local production. With few exceptions, the hope that sales of Chinese brands would surpass that of their foreign partners has vanished, as forced partnerships have failed to produce genuine innovation. With Chinese brands holding just 34.6 percent of the passenger car market through July of this year and global automakers enjoying huge profits in China, the country seems to have recognized that its own automakers are unlikely to catch up without additional help.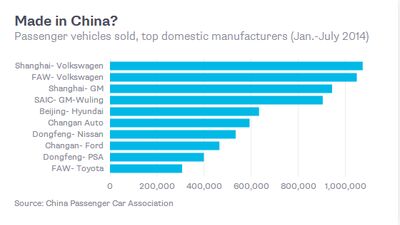 As a result, China's regulators appear to be taking further steps to protect their auto industry by bringing antitrust investigations against foreign competitors. In light of investigations by China's National Development and Reform Commission, Audi AG, BMW and Mercedes-Benz AG have all recently announced cuts to spare-parts prices. The Chinese government insists that it "does not specifically target foreign multinational enterprises," as a China Daily article put it, but going after excessive profits in the luxury car business hurts foreign firms -- which seem all too willing to reduce their healthy margins to maintain access to the Chinese market.
Still, the European Union Chamber of Commerce released a saber-rattling statement on Wednesday indicating that investigators were using intimidation tactics, noting that "While the European Chamber recognises that a number of Chinese companies have been investigated" for anti-monopoly law infractions, "the European business community is also increasingly considering the question of whether foreign companies are being disproportionately targeted in the investigations."
Chinese officials additionally seem to be getting ready to address the huge buildup of inventory that threatens to smother car dealers and has failed to fully subside in the two years since the official Xinhua News Agency wondered whether inventories were in "a danger zone." China's new approach to auto retail may eventually lead to dealers being freed from certifications specific to original equipment manufacturers, according to an analysis, in theory breaking a carmaker's ability to force excess inventory on dealers. Though it's not yet apparent how fundamentally new regulations might change the dealer-carmaker relationship, moving in such a direction seems to be an opportunity for more strategic industry-crafting under the guise of consumer-focused reform.
China's central government has long sought to consolidate its domestic auto industry, but it has had little success weeding out marginal players. Because dealers feel the pain of a weak competitive posture long before automakers do, Chinese regulators may be on the road toward empowering dealers to inflict that pain back on the paper tigers littering China's auto industry.
Though China's new interventions are being made under this rubric of anti-monopoly and pro-consumer regulation, their conformity with long-standing policy goals make it clear that the real point remains building a globally competitive Chinese auto industry. By squeezing foreign giants and marginal domestic firms, China's reforms will probably reward the country's most viable automakers with the best possible chance of joining the global elite. Reforms may unlock real market efficiencies along the way, but these are seemingly only secondary goals.
After all, the Chinese government itself is responsible for much of the high cost of cars in its markets, which stem in part from taxes that regulators "discourage" automakers from highlighting in the final sale price. Until the government is more transparent about its impact on new car prices, it's probably unwise to take its pro-consumer crusade at face value.
This column does not necessarily reflect the opinion of Bloomberg View's editorial board or Bloomberg LP, its owners and investors.