Hedge Fund Billionaire Thinks Fannie Mae Should Be Working for Him
On one theory, Fannie Mae and Freddie Mac have pretty much repaid their government bailouts. On another theory, that is a physical impossibility.
by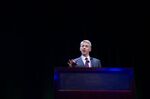 I said this morning that I don't understand Pershing Square's lawsuit against the federal government for taking Fannie and Freddie, and now I've read it and I still don't. It's fine, it's a perfectly serviceable lawsuit, but "Pershing Square's complaint is at least the 20th lawsuit challenging the government's decision to divert Fannie Mae and Freddie Mac profits to the Treasury," and it's not, like, full of pictures of Tim Geithner in compromising positions. I don't know.
There's legal stuff about who had authority to do what when but that's so boring, let's not talk about it.
Instead let's talk about fairness. Basically in August 2012, the government unilaterally took away all of Fannie Mae and Freddie Mac's future profits from their shareholders, and gave them to Treasury instead. So Fannie and Freddie can never pay back Treasury for the $187.5 billion it's put into them, and they can never give any money to their shareholders. Those shareholders think this was very unfair. They think instead that Fannie and Freddie, which are now profitable, should be paying back the government and returning to private hands. Here's how that sort of looks: 1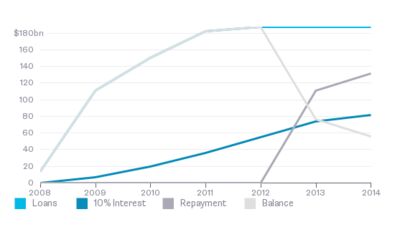 On the shareholders' theory, Fannie and Freddie are almost done repaying the government, and almost ready to start building capital and/or kicking it back to shareholders. On the government's theory, they will owe the government $187.5 billion forever, and the shareholders will be perpetually out of luck.
You can see why shareholders find this unfair. Are they right? I think there are about four ways to look at it, depending on what time period you focus on.
Before the financial crisis, Fannie and Freddie shareholders probably got the benefit of an effective government guarantee of the entities' liabilities without paying a fair (or really any) price for it. So they benefited from profits that were much higher than if the entities had been funding themselves like private companies. This is probably not of huge interest one way or the other for Pershing Square, which bought its shares in 2013. 2 But it is a thing to keep in the back of your mind: The government subsidized Fannie and Freddie for decades, without really thinking about it, and resentment over that fact probably colors governmental thinking now.
During the financial crisis, the government took over Fannie and Freddie in a negotiated deal. 3 But not that negotiated! The government offered Fannie and Freddie a deal, and Fannie and Freddie took it without much backtalk. The deal was pretty draconian -- the government loaned Fannie and Freddie money at 10 percent interest, and got an 80 percent equity stake in the enterprises 4 -- but Fannie and Freddie didn't have much choice but to take it. They were pretty sunk otherwise.
One thing you might conclude from that is that the government should be held to its deal. In September 2008, it had maximum leverage to get whatever terms it wanted from Fannie and Freddie. And it used that leverage to get some pretty draconian terms. So when it demanded even more draconian terms later -- in 2012, when Fannie and Freddie were no longer in crisis and were in fact just turning to profitability -- then that could reasonably strike you as unfair.
It strikes Pershing Square as unfair, thus the lawsuit. I'm pretty much with them on this. If you show up for a negotiation and say "here are all the things I want," and you get all of them, then it's just sort of churlish to go back and ask for more things. And the government's stated reasons for re-cutting the deal in August 2012 -- basically it worried that Fannie and Freddie were running out of money even though they were actually making a ton of money -- are, for the official position of the U.S. government in a bunch of hundred-billion-dollar lawsuits, really not very plausible at all. 5
The real reason is something more like: The government had a lot on its plate in September 2008, and while it wanted to zero Fannie and Freddie shareholders it understandably missed a few details in its efforts to do so. And given that everyone knew that that was its intention, it should get another shot at re-cutting the deal in 2012. This is not a super great legal argument, which is why you don't really see it in the legal papers. But it is not unsympathetic from a fairness perspective, which is what we're talking about here. September 2008 really was pretty nuts, and government officials really did have a tough time balancing (1) their desire to avoid panicking the financial system with (2) their desire to take Fannie and Freddie away from their shareholders. You can see why they'd think they deserved another chance to solve second problem once the first went away.
After the financial crisis, there was another reason for the government to want to zero the shareholders. As of 2012, the federal government was explicitly backing Fannie and Freddie's liabilities, with a written guarantee to inject up to around $445 billion to cover any losses at Fannie and Freddie. Everyone understood that this commitment had a value, and the government was authorized to charge for it. 6
It didn't, for pretty weird reasons. 7 But one argument for the renegotiation in 2012 was, well, the government could have charged a lot for its commitment, and the cash sweep is just a rough-justice way of doing that. The government has most of the downside, so it just took all the upside. Legally this argument is a little shaky: Pershing Square argues that "Treasury abandoned the idea of a net worth sweep through the Periodic Commitment Fee because its legal review determined that doing so would violate the terms of the Stock Purchase Agreements, which required the fee to be set 'with reference to the market value' of the commitment."
So umm what is that market value? Oh I don't know. One thing to consider is that the government went out and figured that in a "severely adverse scenario" Fannie and Freddie would lose about $90 billion, or $195 billion if you count non-cash accounting losses for deferred tax assets. So they would need another $190 billion in taxpayer money in, again, the plausible worst-case scenario. If the taxpayers gave them that money they would have to pay 10 percent. So if you just charged them 10 percent of that amount now, that's ... surely a cap on how much the guarantee is worth? Anyway that comes to $19 billion a year. 8 That's ... actually somewhat comparable with what the government has charged? 9 But that is some pretty silly math.
Finally, there's the future. Here are some plausible things to think about the future:

There will be a system of housing finance in the U.S.

The government will have some involvement in that system.

Private companies will also have some involvement.

Here is a thing that you pretty much don't know:
What if any role Fannie Mae and Freddie Mac will play in that future.

And that's pretty much up to the government! There are lots of governmental threats to wind down Fannie and Freddie entirely. There are lots of other governmental efforts to continue to enshrine Fannie and Freddie in housing policy. It's hard to know which side will win out. Certainly Fannie and Freddie have some things -- a securitization platform, people who know where all the files are, etc. -- that would be hard and pointless to replicate if you just shut them down. But they have some other things -- mainly a capacity to inspire rage -- that might make you want to shut them down anyway.
Why does this matter for Pershing Square's lawsuit? Well, it doesn't, for the lawsuit. But for the question of fairness -- is it fair that the government took Fannie and Freddie's profits away? -- it matters quite a bit. If the government had just decided, in 2012 or now or whenever, to shut down Fannie and Freddie, then the shareholders wouldn't have much cause for complaint. They had a right to the entities' profits, and those profits would be zero.
One thing you could conclude from that is: Well, the government could have zeroed the shareholders by winding down Fannie and Freddie, so they have no cause to complain if the government zeroed them in some other way, for instance by nationalizing the profits. This has some appeal, but I'm not sure it's right. The shareholders made a bet on politics, sure, but it was a specific bet: that Fannie and Freddie would be useful enough to the mortgage financing system that the government would want them to stick around. That bet, so far, looks pretty good: Fannie and Freddie are still around, still the backbone of the mortgage system, and making quite a bit of money.
The shareholders made a bet on Fannie and Freddie's usefulness and performance and profitability. Y'know, like shareholders do. And the government, in effect, made a bet that Fannie and Freddie would disappear. That's why Treasury got the 2008 deal "wrong": It didn't count on Fannie and Freddie's quick return to profitability, so it just assumed that the draconian bailout it offered would effectively zero the shareholders. The shareholders' bet seems, so far, to be right, so it's understandable that they think they should get the benefit of that bet. And why they're mad that the government has taken it instead.
To contact the author on this story:
Matthew S Levine at mlevine51@bloomberg.net
To contact the editor on this story:
Toby Harshaw at tharshaw@bloomberg.net
Before it's here, it's on the Bloomberg Terminal.
LEARN MORE