Coke Buys Monster, Kids Stay Hyper
With Coca-Cola investing in energy drink maker Monster and planning to buy a bigger stake, regulation of caffeine-saturated drinks will be put on the back burner.
by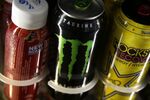 Now that Coca-Cola Co. has boughta minority stake in energy-drink maker Monster Beverage Corp., chances are slim that efforts to keep kids away from highly caffeinated concoctions will succeed.
Energy drinks are now unregulated thanks to the efforts of Coke competitor PepsiCo Inc. In 1981, it managed to convince the Food and Drug Administration that caffeine, the main "energizing" ingredient in energy drinks, was a flavor enhancer. If caffeine "had been regarded as a psychoactive ingredient, soft drinks might have been regulated by the FDA as drugs," FDA pharmacologist Chad Reissig and collaborators wrote in a 2008 paper. Instead, the agency limited the maximum caffeine content of cola-like beverages to 71 milligrams per 12 fluid ounces -- a restriction that is not enforced, and in any case, it doesn't cover products classified as dietary supplements, as many energy drinks are.
As a result, there's lots of caffeine in these drinks, and people who can't take that much appear to die occasionally. In June, the Center for Science in the Public Interest, a nonprofit specializing in nutritional safety, wrote a letter to FDA Commissioner Margaret Hamburg, based on a Freedom of Information Act request for data on deaths and other accidents related to energy drinks. The request turned up 276 reports filed in the U.S. Adverse Event Reporting System since 2004, 34 of them involving deaths. Of these, 11 were linked to Monster drinks. For example, Anais Fournier, 14, died from cardiac arrhythmia after drinking a can of Monster with her friends at the mall.
The reports are few, and they do not prove that the drinks caused the deaths and other incidents. Evidence of the drinks' ill effects is spotty, though they have been conclusively linked with problem behaviors such as soft drug use, drinking, smoking, fighting and sexual risk-taking. There is also plenty of evidence that the products are dangerous in combination with alcohol.
Toronto health authorities are now proposing that energy drinks not be sold alongside alcohol in the city's bars and clubs. Some European countries, such as France, Denmark and Norway, had bans in place until recently but rescinded them because the health risks could not be proven. Lithuania banned the sale of energy drinks to minors last May -- a move the American Medical Association has backed for the U.S.
Though manufacturers such as market leader Red Bull GmbH and runner-up Monster have been putting voluntary warnings on their cans that say high-caffeine drinks are not suitable for people under 18, that doesn't mean they wouldn't happily sell to minors. According to a study published earlier this year, 14.7 percent of 2,800 adolescents surveyed in Minneapolis middle and high schools had at least one energy drink per week. If it weren't for kids and young adults, the market wouldn't be growing so fast. Sales of sports and energy drinks almost doubled from 2004 to 2013, to $59.9 billion, while the market for carbonated soft drinks grew only 6 percent, to $337.8 billion: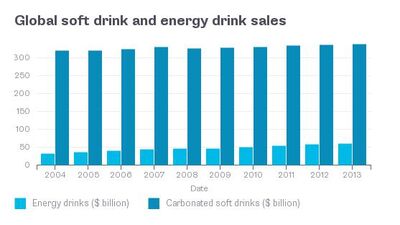 Now, with Coca-Cola seeking bigger market share in the fast-growing category and hoping to increase its 17 percent stake in Monster, restrictions on the sale of energy drinks are unlikely. Coca-Cola spends $4.8 million a year on lobbying, 2.4 times as much as the second-biggest spender in the industry, Pepsi. "The company advocates for choice," Coca-Cola says on the public policy engagement page of its website.
Adults, then, will have to watch their children's choices in addition to their own -- a chore the government has taken away from them where alcohol, tobacco and marijuana are concerned.
This column does not necessarily reflect the opinion of Bloomberg View's editorial board or Bloomberg LP, its owners and investors.