Volcker Rule Brings Trading Out of Shadows
The unexpected consequences of regulation can be good as well as bad.
by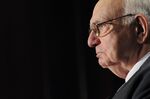 Bankers have long warned that tougher regulation will hinder financial activity and push it into the shadows. At least in one market, new rules might be having the opposite effect.
Back in 2010, when Congress passed the Volcker Rule forbidding short-term speculative trading by federally insured banks, the banks argued that it would reduce their ability to engage in market-making, in which they buy and sell securities in anticipation of their customers' needs. This useful activity, they said, would migrate to less regulated financial companies, and investors would end up paying more to trade.
True to their word, banks have cut back on the amount of securities they hold ready for customers' orders. Inventories of corporate securities at so-called primary dealers -- mainly large banks -- declined 36 percent from July 2010, when the Volcker Rule became law, to March 2013. Inventories have since fallen another 19 percent from the level of April 2013, when the Federal Reserve changed the way it reports the holdings.

Investors, for their part, are going elsewhere to trade corporate bonds -- specifically, to exchange-traded funds, which offer an easy way to put money in a large portfolio of securities. The dollar volume of trade in one popular vehicle, called the iShares iBoxx High Yield Corporate Bond ETF, averaged $434 million over the 20 trading days through Aug. 12. That's equivalent to 6 percent of cash trading in actual high-yield bonds, triple the level in mid-2010:

The ETF trading is neither shadowy nor expensive. It happens on exchanges, where prices and flows are easier to see than in the cash market dominated by the big banks. The cost of trading, measured as the difference between bid and ask prices, is a tiny fraction of what investors pay when trading with the banks. In essence, investors are responding to banks' pullback by finding a more efficient way to trade.
Perhaps the unexpected consequences of regulation can be good as well as bad.
This column does not necessarily reflect the opinion of Bloomberg View's editorial board or Bloomberg LP, its owners and investors.