Russian Prime Minister's Twitter Is Truthful for an Hour
A hacker hijacked Prime MInister Dmitri Medvedev's account to suggest handing back Crimea. It's a shame the tweets weren't real.
by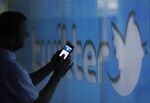 Canadian Prime Minister Stephen Harper picked a bad time to unfollow his Russian counterpart, Dmitri Medvedev, on Twitter because he had "no interest in following Russian propaganda." He missed out on the most remarkable 44 minutes in the bland life of @MedvedevRussia -- which enjoyed a brief spell under the control of a hacker much braver than the Russian prime minister and as averse as Harper to Kremlin evangelism.