No Slide Tackles, Please, We're Ladies
For an organization perhaps most famous for its widespread corruption, FIFA can now add gender discrimination to its growing list of offenses.
by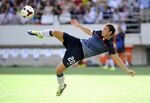 Soccer's world body, FIFA, has long been famous for its widespread corruption, and can now add gender discrimination to its list of offenses.
Ahead of next year's Women's World Cup in Canada, the association has drawn the ire of several prominent female players over its decision to use artificial turf for all fields. This year's men's competition in Brazil was held on grass, as has every men's World Cup and Champions League final, causing U.S. players such as Abby Wambach, Alex Morgan and Heather O'Reilly to cry foul and threaten to sue.
"It's a gender issue through and through," Wambach told the New York Times. It's hard to argue: Soccer players almost universally revile playing on turf, which has made much technological advancement over the years but still changes the style of play; many players feel it also increases injury risk.
The ball moves much more quickly on artificial fields, a divisive fact in itself depending on whether one values accuracy over control. Proponents point to the uniformity of turf, which isn't contingent on weather conditions, while detractors extoll the natural feel of grass.
It might just come down to comfort. A study conducted by FIFA found that the majority of players, both men and women, found perceptible differences between turf and grass, which they felt influenced match results. Adjustment is key: "Styles of play are seen as being changeable on different surfaces and a level of adaptation is required," the study states. And with 59 percent of players having no experience playing on turf, countries where players grow up with some turf would have a significant advantage.
Then there's the safety issue: For one thing, contact with turf rips off the skin. "I'm not going for a diving header" in the World Cup, Wambach told the Times, reflecting players' perception that injury risk is higher. Grass has more give, while the quicker play on turf impacts certain types of injuries. FIFA's study found that the higher injury instances were related to "soreness and fatigue, rather than muscular tears or fractures."
On the other hand, some studies have suggested that consistent turf conditions actually reduce the risk of injury. A study conducted by Idaho State University in Pocatello declared that FieldTurf, the high-tech surface FIFA plans to use next year, "is a practical alternative to natural grass." It should be noted that this highly cited study was funded by FieldTurf to the tune of 40 percent, while one of the study's authors declared a possible conflict of interest on the paper.
Another study might give us more clues to the deeper problems of relegating female players to turf. Researchers at Virginia Tech found that while more serious injuries decreased on artificial surfaces, this isn't necessarily directly attributed to the safer nature of turf, but, as stated above, players' ability to adjust:
Players seem to alter their style of play on [artificial turf]. Match analyses show that the amount of time spent running at different intensities is similar between surfaces, but fewer slide tackles and shorter passes are executed on AT. The reduction in slide tackles may stem from the fear of skin abrasions but may limit the number of "high risk" situations for injury, particularly contact injuries.
In short, there's a reason (or several) that men have never had to play on turf at the highest level: It fundamentally changes the game.
By forcing women to compete on artificial surfaces, FIFA is effectively engineering a less-physical sport exclusively for one sex. This is a problem for reasons both practical and theoretical. While men's soccer is only now finding its footing in the U.S., women's soccer has long enjoyed vast popularity and international success, partly because of the sheer athleticism and physicality of American female players. If players like Wambach are forced to curb their style of play because of field conditions, that hurts the growth of the sport, both stateside and abroad.
More fundamentally, the gentle push to female players to be more cautious, to avoid the slide tackle and diving header and other plays that make soccer so exciting, speaks to the very worst notions of feminine stereotypes that have long informed gender inequality in sports. In the not-too-distant past, women were banned from participating in everything from basketball to marathon running because our bodies were deemed too fragile. Forcing the women, and only the women, to play on a surface that spurs less physical play simply reinforces the idea that femininity and athleticism are mutually exclusive, and denies female soccer players the right to define their own womanhood -- an idea insulting enough before it's applied to some of the most elite athletes in the world.
This column does not necessarily reflect the opinion of Bloomberg View's editorial board or Bloomberg LP, its owners and investors.