Markets Are Making a Sucker's Bet on Europe
This morning's shockingly bad economic data out of Europe is being treated as good news by the markets.
by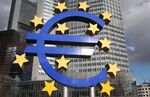 It is happening again! This morning's shockinglybad economic data out of Europe is being treated as good news by the markets, with both equity and bond prices initially responding favorably to the news. This paradox is a repeat of yesterday, when markets also treated the bad news for Main Street -- disappointing U.S. retail sales numbers-- as good news for financial assets. And while strengthened expectations of greater central bank accommodation readily explain this apparent perversion, it should not also blind us to the fundamental drivers in play.
Let's start with the three most notable aspects of this morning's growth data released by Eurostat, the statistical unit of the European Commission.
First, the euro area's gross domestic product failed to grow in the second quarter, missing both official and market consensus expectations. As such, the annual growth rate is now running at one-third that of the U.S. and one-quarter that of the U.K.

Second, rather than a new calamity among the peripheral economies, this disappointing outcome reflected particularly poor performance among the three largest economies, France, Italy and, most importantly, Germany.

Third, and as a result, Germany -- the region's powerhouse and its most influential policy leader and financier -- has now joined Italy in contraction mode; and it is only a (short) matter of time before France joins them.

This shockingly poor outcome comes on the heels of more partial data that suggested that the euro area's already timid recovery was losing pace. Nevertheless, the immediate market reaction was to push even lower yields on the 10-year German government bonds, breaking through the psychologically-notable 1 percent level at one point.
Equities rallied rather than slump on this news, illustrating the Americanized mantra that bad news for Main Street is good news for Wall Street.This reflected strengthened expectations that the European Central Bank will have to begin additional monetary stimulus in what is now an even bigger battle against recessionary and deflationary forces.
Yet as hard as it tries, the ECB does not have the right policy tools to deal with Europe's main economic ailments or that can speak to both supply and demand impediments. Nor is it in a position to decisively lift the debt overhangs that dampen economic activity. And it is certainly not in a position to counter the negative effects of the rounds of sanctions and counter-sanctions with Russia that the West and Europe are engaged in for geopolitical and national security reasons.
The bottom line is simple yet consequential: Today's poor economic data will push the ECB to do more. As such, markets are right to initially treat the disappointing numbers as good news for artificially-bolstered financial asset prices. But further ECB actions, on their own, will prove insufficient to decisively change the euro area's economic situation. So financial markets are really betting on is: 1) a better regional policy response to the fundamental causes of the muted recovery and 2) an easing of geo-political tensions surrounding Russia. Unfortunately, there is little to suggest that either of these will materialize, let alone the two together.
This column does not necessarily reflect the opinion of Bloomberg View's editorial board or Bloomberg LP, its owners and investors.