It's Question Day
It's Question Day on Jonathan Bernstein's blog!
by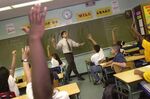 It's Question Day. You ask questions, I answer them. Open topic. Presidential nominations? Midterm elections? Senate rules? Democracy or representation? Something off the wall? I'll answer as many as I can. Leave them in comments here, or via email, or tweet them to me @jbplainblog. As always, I'll try to do a bunch, and at the end of the day I'll go back into comments here and try to give quick answers to many of the rest.
I always have fun doing these. So start 'em coming.
This column does not necessarily reflect the opinion of Bloomberg View's editorial board or Bloomberg LP, its owners and investors.
To contact the author on this story:
Jonathan Bernstein at jbernstein62@bloomberg.net
To contact the editor on this story:
Frank Wilkinson at fwilkinson1@bloomberg.net
Before it's here, it's on the Bloomberg Terminal.
LEARN MORE