It's Question Day
It's Question Day on Jonathan Bernstein's blog!
by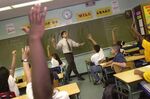 It's Question Day. You ask questions, I answer them. Open topic. Presidential nominations? Midterm elections? Senate rules? Democracy or representation? Something off the wall? I'll answer as many as I can. Leave them in comments here, or via email, or tweet them to me @jbplainblog. As always, I'll try to do a bunch, and at the end of the day I'll go back into comments here and try to give quick answers to many of the rest.
I always have fun doing these. So start 'em coming.
This column does not necessarily reflect the opinion of Bloomberg View's editorial board or Bloomberg LP, its owners and investors.