view
Can Anyone Give Mario Draghi a Hand?
ECB President Draghi argues that government's have do to the heavy lifting to revive growth. He's right; but the worsening economic backdrop will sap any appetite for structural reform.
by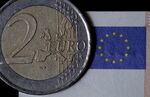 European Central Bank President Mario Draghi is under fire to do more to resuscitate growth. He, in turn, argues that monetary policy can only achieve so much, with government reform required to do the heavy lifting. He's right, but the worsening state of the euro-region economy probably means the political appetite for reform, which was never great, is receding.
Here's what Draghi had to say at his Aug. 7 news conference:
Private investment for the euro area as a whole is low and certainly much lower than it is in other parts of the world. The general uncertainty that the lack of structural reforms produces is a very powerful factor that discourages investments. There are stories of investors who would like to create, to build plants and equipment and create jobs, but it takes them months to get an authorization to do so. There are stories of young people who try to open their business, and it takes eight, nine months before they can do so. That has nothing to do with monetary policy.
Here's a chart that measures occurrences of the term "structural reform" in the tens of thousands of news stories that have streamed across the Bloomberg terminal during the past seven years: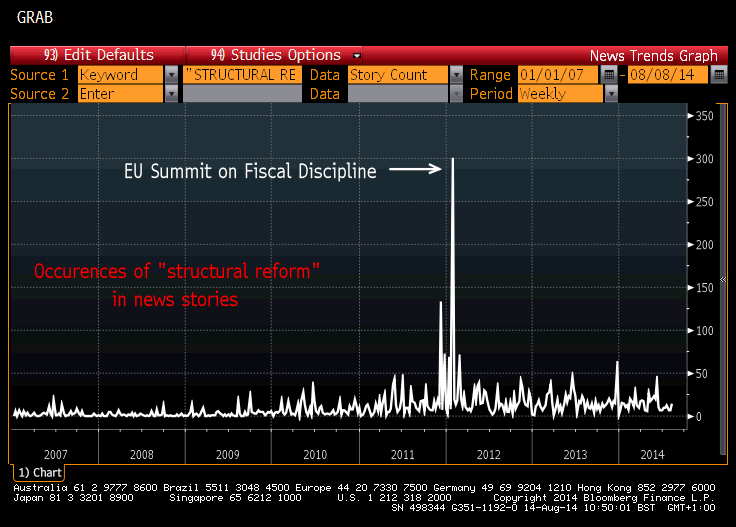 That peak, in January 2012, coincided with a European Union summit to introduce a treaty on fiscal discipline. The accord, which was toughened up in response to demands from the ECB, established an automatic correction mechanism designed to prevent government deficits from straying away from targets, and imposing fines for failures to legally commit to balanced budgets. Since then, structural reform clearly hasn't figured much in the economic discussion.
Today, France has abandoned its 2014 deficit target after its economy stagnated for a second consecutive quarter in the three months through June. That's less than four months after it pledged a deficit limit of 4 percent of gross domestic product; next year's 3 percent target also looks about as useful as a chocolate teapot.
Figures today also showed zero second-quarter growth in the euro region, while the 0.2 percent contraction in Germany was twice as bad as economists had anticipated, driving the 10-year German bund yield below 1 percent for the first time. Pressure on Draghi is mounting as the euro zone risks renewed recession; governments, though, should also take a hard look at their own behavior.
To contact the author on this story:
Mark Gilbert at magilbert@bloomberg.net
To contact the editor on this story:
James Greiff at jgreiff@bloomberg.net
Before it's here, it's on the Bloomberg Terminal.
LEARN MORE