Brazil's Election Draped in Mourning
The death of Brazilian presidential candidate Eduardo Campos alters the landscape of the country's October election.
by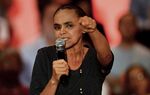 Twenty years ago, when he debuted in national politics, Eduardo Campos, the Brazilian presidential hopeful who died in a plane crash yesterday, was easy to underestimate. With his elegant suits, camera-ready smile and pale-blue eyes as big as fog lights, the junior legislator from the northeastern state of Pernambuco seemed a better fit on the set of a soap opera than in the two-fisted arena of Brasilia.